Imagine that one fine day, your company's CTO decides to resign.
Well, if you have a succession plan in place, the transition won't be much of a hassle, and business will go on as usual.
But what if you don't have a solid succession plan?
This will lead to confusion, anxiety, a decline in your company's reputation, delays in project completion, and so forth. It can impact employee retention rates, reduce company market value, lead to wrong hires and affect the morale and productivity of existing employees. Like losing members from your leadership team, losing those performing niche roles and other integral non-leadership positions can also adversely affect your business.
That's why it is essential to have an ongoing succession plan to attain business growth and stay relevant.
By duly considering all these factors, we will delve into what succession planning is, its different types, benefits, common mistakes, and best practices.
What is succession planning?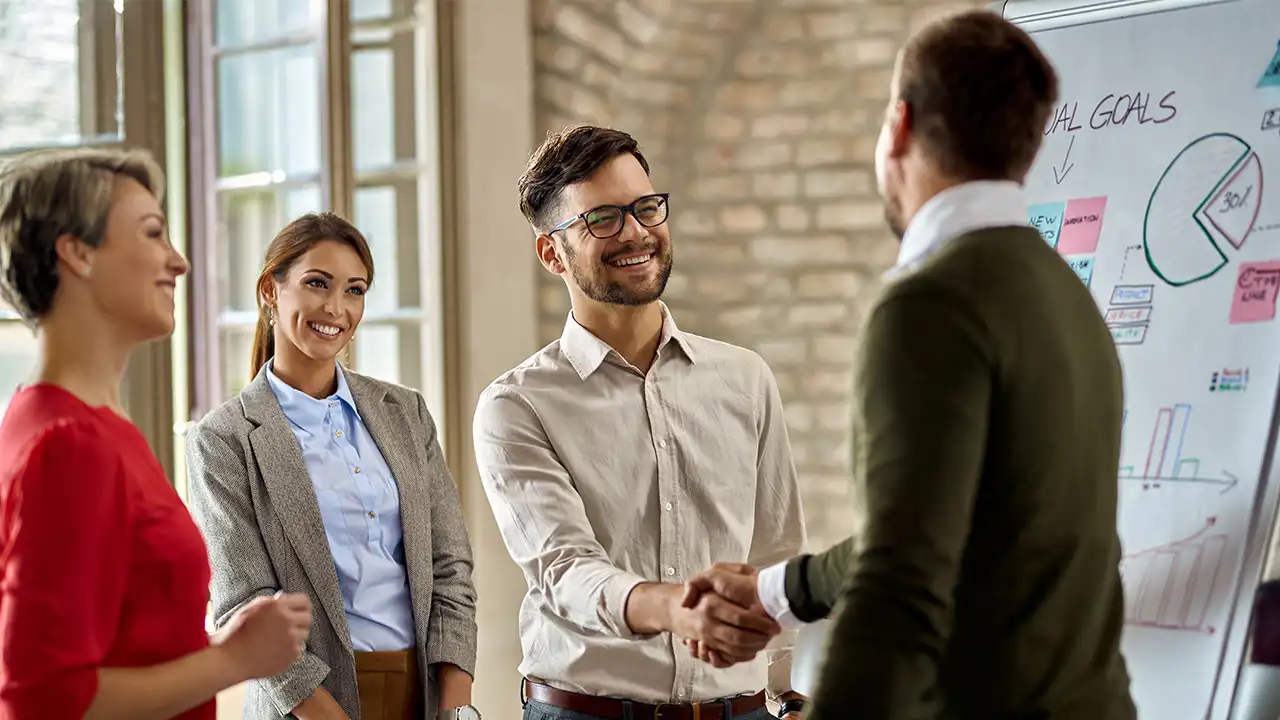 David Ulrich, a renowned management coach and consultant famous for his contributions to the world of HR, once said, "succession planning doesn't start with people. Instead, it starts with the requirements of the position."
Taking his words into consideration, now, let's look at what succession planning is.
Succession planning is an ongoing process for creating a safety net for your organization to function smoothly. It helps you identify the right talent internally or externally if a situation arises when someone in your company's leadership or non-leadership position decides to leave. It could be staying prepared under conditions where employees attain promotions and move up the corporate ladder.
Having the right employees performing roles suited for them will help your organization function smoothly without disruptions or succession crises. To facilitate the same, it is integral that your company work on such contingency plans to avoid any hiccups in your business journey.
Identifying talent within your organization and grooming them to take up leadership or other critical roles is one way of moving forward with succession planning apart from hiring externally. By the way, we will soon get into the details of the different types of succession planning.
Additionally, while working on succession plans, it is always best to create them for the long-term, considering the company goals, requirements, and so forth, instead of working on short-term ones.
Different types of succession planning
Since we have looked into what succession planning is, why don't we dive into some of the common types of succession plans that organizations often consider?
Internal succession planning
In this type of planning, organizations focus on finding employees within the company and grooming them to take up critical roles as and when needed. This type of succession planning helps retain and enhance a company's intellectual capital.
External succession planning
When it comes to external succession planning, organizations would create a diverse talent pool, nurture them, and ensure they have suitable candidates for critical positions when required.
Leadership succession planning
This type of strategic succession planning focuses on finding the right talent internally or externally to take up leadership roles. This can include board positions and C-suite roles such as CEO, CTO, and CFO. When internally hiring candidates for these leadership positions, you can groom and train them early on to stay prepared.
Non-leadership succession planning
Along with leadership positions, it is essential to have succession plans for non-leadership roles, especially niche roles that are hard to recruit, train, and replace. While creating these plans internally, you can conduct cross-training programs (focusing on adjacent skills), and efficient teamwork plans to overcome any issues when somebody handling such niche roles decide to resign from your company.
Long-term succession planning
Long-term succession plans ensure that your company doesn't face any succession crisis when leadership or non-leadership talents leave your company. In this type of plan, a lot of preparation and pre-selection will be involved in anticipating changes.
While creating long-term succession plans, it is essential to remember that it's not just about making one and letting it be the plan for years to come. In fact, these plans require constant updates and reevaluations to ensure they don't fail.
Emergency succession planning
If your organization doesn't have a succession plan in place and an emergency occurs, this is when an emergency succession plan becomes helpful. These temporary plans can help your company handle sudden disruptions due to resignation, death, etc.
Transition succession planning
Like emergency succession planning, this is also a temporary plan that can be implemented when employees take an extended vacation or go on leave due to sicknesses, etc.
Benefits of succession planning
When Steve Ballmer stepped down from his position as Microsoft's CEO in 2013, the company didn't have a succession plan. They didn't know who would be qualified internally or externally to replace Ballmer.
Yes, everything turned out for the best, with Satya Nadela stepping up as Microsoft's CEO six months later. Nevertheless, the lack of proper succession planning might have cost Microsoft way more if not for Nadela turning out to be their perfect pick. Well, this is just one of the many examples to consider.
Many companies struggle because of poor succession planning. A good and executable succession plan can benefit your company in many ways.
So, by keeping these things in mind, why don't we explore some key benefits associated with succession planning?
Helps reduce risks when a critical job role becomes vacant unexpectedly and future-proofs your business from being affected by such unexpected changes

Improves employee retention as your employees would have a clear understanding of the career growth opportunities available within your company, which will also enhance their productivity, satisfaction, and morale
Retains company values, integrity, fame, reputation, and credibility as there will be lower chances for succession crises, impacting your business adversely
Helps save money in the long run, as hiring new employees externally and starting from scratch is an expensive process
Helps initiate knowledge (tangible and intangible) sharing within your company through internal training programs, which will prepare your existing talent for any sudden changes
Improves the relationship with shareholders and investors, especially when there aren't any succession-related disruptions happening within the leadership
Enhances and preserves organizational culture and also builds a positive work environment
These are some of the top benefits of succession planning. With these many benefits in store, it is an excellent option to work on such contingency plans. However, some mistakes might happen even while doing so, and being aware of them beforehand can help rectify them in time. So, why don't we have a look at them?
Common mistakes made by companies while performing succession planning
Performing succession planning in the right and most effective way can sometimes be tricky. Although many organizations engage in succession planning, there are some common mistakes they tend to make, hampering the process. Let's have a look at some of these concerns:
Many companies often look for talent externally while creating succession plans, even when they have a highly qualified internal talent pool. While opting for internal talent, training and grooming them will be easier, and the transition process will be much more convenient.
Failing to use technology and creating manual succession plans can affect the quality of the process. It might even lead to favoritism, biases, and even the selection of the wrong person for critical roles. It is also a time-consuming and labor-intensive process.

Limiting succession planning to C-suite employees is yet another concern. It is also essential to have strategic plans for other non-leadership posts, especially niche roles that are difficult to fill.

The lack of a diverse talent pool that can help identify talents externally is also an issue.

The creation of succession plans without any transparency can also affect the process.
However, your organization can move past these hurdles and create effective succession plans by working on them strategically and following specific best practices.
Succession planning best practices: Things to know
There are different best practices associated with succession planning. Let's have a look at them: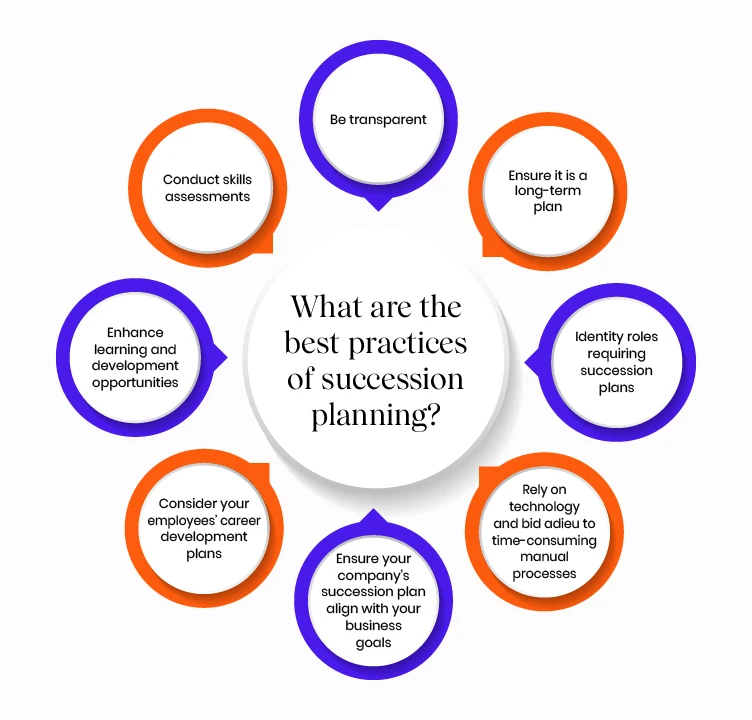 Ensure it is a long-term plan
Succession plans aren't meant to be just created once every two to five years. Instead, you have to work on them continuously and update them from time to time, as a succession crisis can happen anytime.
Additionally, while working on them, be thoughtful of the future. It is best to consider a minimum of one year to even five years while creating your company's succession plan.
Identity roles requiring succession plans
Based on your organizational structure, the roles requiring succession plans would vary. Therefore, it is essential to identify critical positions that are hard to replace. These roles can include leadership positions and even niche roles within your company. While planning, be analytical of possible vacant positions, which can be due to instances like retirement.
Rely on technology and bid adieu to time-consuming manual processes
Creating succession plans manually is a challenging task. HR professionals whose hands are already tied with several other responsibilities can make the best out of technology to work on their succession plans.
From using skills assessment platforms to analyze the skills of your employees/candidates to skills intelligence platforms that can provide skills insights and perform talent benchmarking, there is a lot to explore.
Besides, while relying on these platforms, you can attain the following benefits:
Overcome any systemic or unconscious biases
Enhance diversity and inclusivity
Ensure your company's succession plan aligns with your business goals
While working on your company's succession plan, it is essential to focus on your company's strategic objectives, goals, vision, and mission. Through this, you can have a strategy to help you attain business growth and stability even when an unexpected disruption occurs.
Consider your employees' career development plans
Similar to bringing your company's goals to the spotlight, you must ensure that your succession plans align with your employees' career goals. For that purpose, you have to understand their aspirations and interests too. You can also use a skills intelligence platform to create your employees' career trajectories and development plans.
Along with creating career development plans, conducting performance appraisals and review sessions can be highly beneficial.
Enhance learning and development opportunities
Strengthening your learning and development activities is a best practice that your company can adopt as part of succession planning. Through this, you can help your employees improve their skills, work towards their career trajectories, reduce turnover, and enhance productivity. This will make your employees prepared if any successions are required.
Conduct skills assessments
Including skills assessments for current employees and candidates in your recruitment channel is another best practice for succession planning. For your existing employees, it can be a way of attaining skill insights into their learning and development activities. It will also help you measure the ROI of these initiatives.
When it comes to recruiting new candidates, it will assist you in identifying candidates with relevant skill sets for the job roles.
Are you struggling to identify the skills you need to stay ahead of your competition? Try iMocha!
Create a diverse talent pool
Along with looking for talent internally, it is essential to have a diverse talent pool ready, especially for critical and niche roles. By doing so, if you are unable to find someone internally, you can rely on this pool to shortlist the right talent for your company.
Be transparent
Another succession planning best practice to keep in mind is being transparent and open about these activities. This will help build your employees' confidence, improve their understanding of their roles, and build trust in your company.
Final Thoughts
In short, creating an ongoing succession plan can benefit your organization in several ways, ranging from increasing employee retention rates to improving your company's credibility and brand.
Therefore, your organization can work on an effective succession plan by overcoming common mistakes while working on succession plans and adopting the above-discussed best practices.