With a shift to a remote work environment over the last two years, most companies were forced to go all-remote with their interview processes. Although it may sound productive due to fewer resources, including no more requirement of candidates flying in for interviews. Remote hiring is much more complex at ground level.
Proxy interviews and "catfishing" are on the rise. Interviewers often face extreme fatigue due to the high volume of candidates. And for recruiters, it gets harder to assess individuals' identities and coding skills due to the candidates' exposure to the internet during an ongoing session.
The latest Business Insider survey discusses how candidates hire proxies for job interviews at $150 an hour. An interview assessment tool can ensure your team does not fall into this bait by optimizing your interview processes from start to finish.
But finding the right interview assessment tool is a challenging task. You must look for key features that your ideal interview assessment tool must contain without fail. Checking for these can save your organization from the wrath of incorrect hiring and other legal issues.
Here are some vital features in a tool to look for:
Offers a library of assessments for various skills.

Integrates with leading ATS.

Provides support for live virtual interviews.

Includes an intuitive remote real-time coding platform to test coding skills.

Automated video interviews to reduce interview time during bulk hiring.
Now that you know what makes for the best interview assessment software, let's find the most suitable tool for your recruitment needs and budget range. We've rounded up six of the leading interview assessment tools and highlighted their best features and price range.
Top 6 Interview Assessment Tools
1. iMocha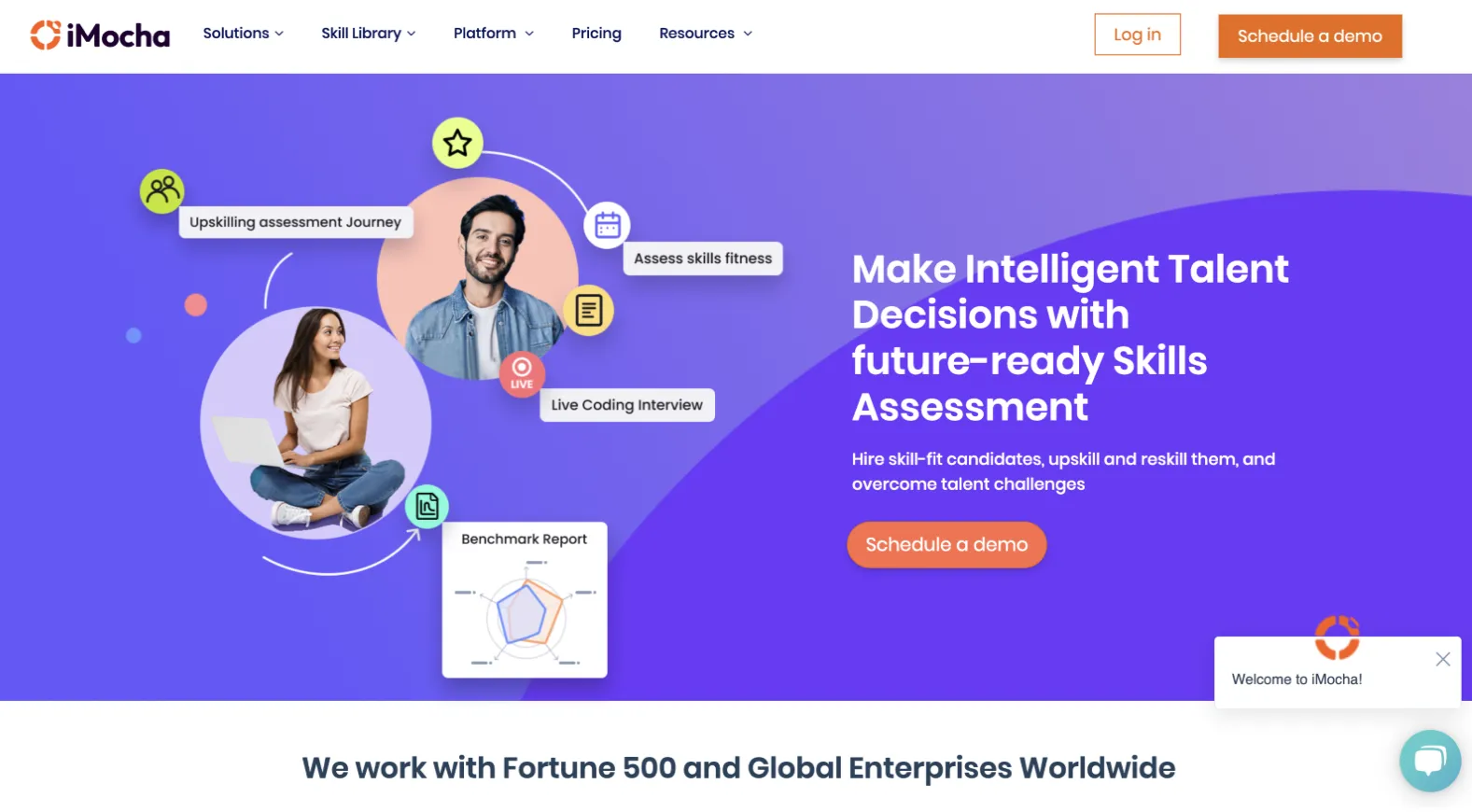 Founded in: 2015
G2 rating: 4.4 (184 reviews)
iMocha is an intelligent interview assessment software that makes your virtual and interview hiring process smoother and extra efficient. You can automate the interview process, from skills assessment to coding rounds, and conduct video interviews with iMocha's intelligent solutions.
Finding skilled developers for various IT skills is an uphill task. But with iMocha's Live Coding Interview platform, you can assess your candidates using its massive library of skill assessments and real-time coding platform.
Worried about the candidate's authenticity during a video interview? iMocha records every video interview with optimum security compliance.
What's more? You can cut 70% of your time with iMocha's automated video assessment tools for interview. Therefore, it's an incredible all-inclusive tool for your all-remote hiring events.
What's good about iMocha?
iMocha's

automated video interview

assessments evaluate candidates in all rounds, such as functional, technical, and communication. You can easily customize the existing video questions based on specific job roles.

Access coding skills with coding simulators like the

AI-LogicBox

for technologies that do not have coding compilers.

Seamless candidate screening and interview scheduling with zero conflicts.

iMocha promotes zero hiring bias. Quick report sharing with hiring managers and recruiters. iMocha creates comprehensive post-interview reports of candidates, along with their scores and answers. Managers can take a call instantly based on these intelligent reports.

With over 1500+ coding problems in 25+ programming languages, iMocha's

Live Coding Interview platform

is a doorway to hiring top-quality developers.

iMocha supports AI-based proctoring methods to keep any candidate malpractices at bay.

Streamline and optimize your recruitment drives with easy integration of leading ATS such as Workday, Lever, etc.

iMocha provides a one-of-a-kind

CERF-based Business English Proficiency assessment

w

ith AI-EnglishPro. Get up-to-the-mark score reviews for core parameters with its in-built sentiment analysis.
Top clients using iMocha: Cognizant, Fujitsu, Wipro, Ericsson, and many more.
Price range: $1800/year
Further reading:
2. NinjaInterview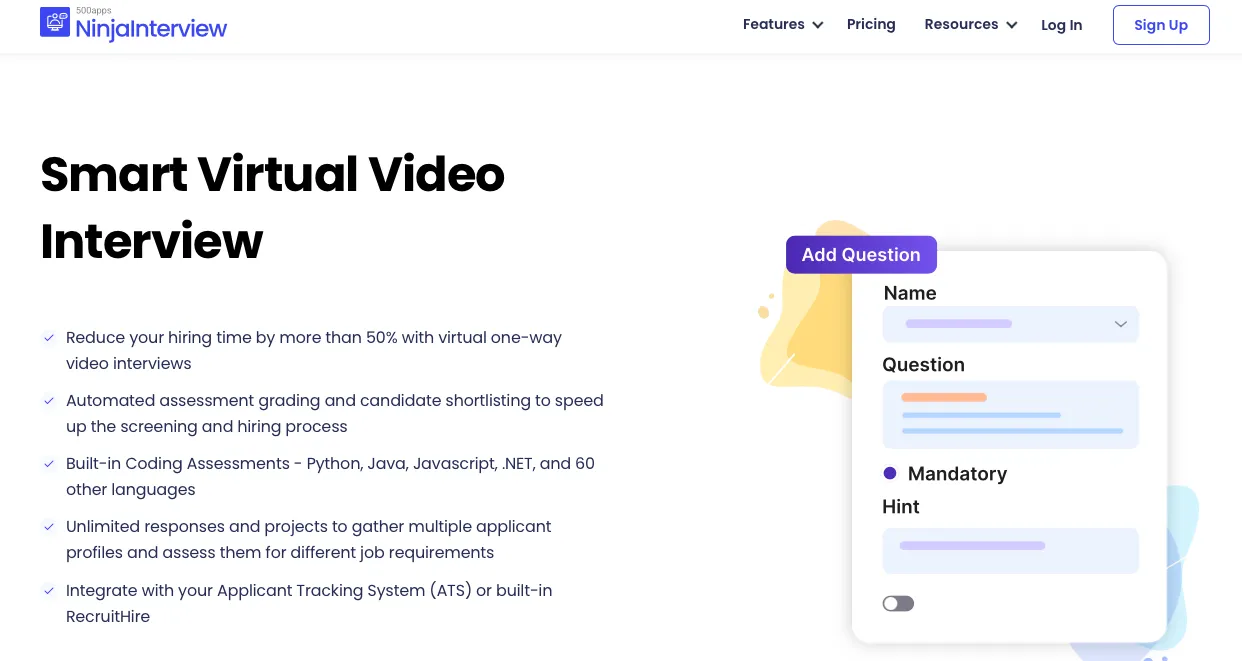 Founded in: 2018
G2 rating: Unrated
NinjaInterview helps streamline interview processes and eliminates the standard interview time by over 50%. The tool offers various coding assessments and customized questionnaires for multiple domains. The auto-evaluation feature fastens the selection process with assessment tools for interview.
What's good about NinjaInterview?
A simplified virtual interview process with candidates submitting instant responses, thus, saving time.

Get access to an extensive dashboard, giving a bird's eye view of assessments, results, active candidates, and other vital details to fasten the hiring process.

You can create and store multiple custom tests to evaluate candidates on the go.

NinjaInterview offers test results with zero delays by auto-evaluating candidates and saves recruiters' time.

Offers asynchronous one-time video interviews where your candidates can re-record their responses at any suitable time.
Price range: Starts from $13/user/month
Further reading:
3. Interviewer.ai

Founded in: 2018
G2 rating: 4.6 (22 reviews)
A smart video interviewing platform, Interviewer.ai is a unique hiring tool that uses Explainable AI to screen and shortlist candidates at scale. The power of AI integrated with hiring technology gives you a bias-free hiring experience and analyzes every candidate's technical and psychological factors.
What's good about Interviewer.ai?
Boosts your hiring team's efficiency with the power of AI. Assess candidate skills, score resumes, and set up asynchronous video interviews with this AI-based tool.

Removes bias and promotes inclusivity with its tailored, intelligent interview methods. The tool helps pick suitable candidates by looking outside their academic qualifications.

Interviewer.ai's AI video hiring technology auto-analyzes professionals based on communication, professionalism, and culture fit.

The tool uses Explainable AI to pre-screen and shortlist candidates for a more transparent and user-friendly interview process. This saves your recruiters time and resources.
Price range: Starts from $500/month for 3 users
Further reading:
4. ZappyHire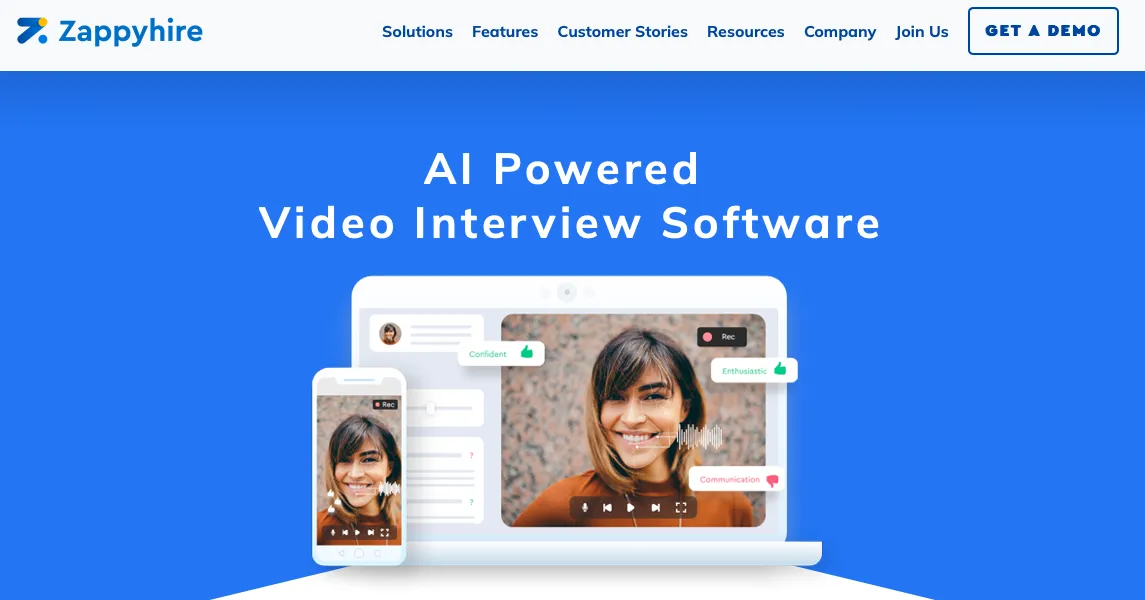 Founded in: 2018
G2 rating: 4.5 (39 reviews)
ZappyHire is an AI-based recruitment and video interview platform that helps organizations automate talent management with intelligent solutions. The tool hosts its own video interviews through which you can invite, review, and assess candidates in less time. It also offers recommended scores with its automated interview scoring system.
What's good about ZappyHire?
Get more candidate insights with the automated video interviewing tool. AI-powered tech can help identify the best-suited candidates by scrutinizing their capabilities beyond traditional skills.

Offers an effective collaboration platform for recruiters, hiring managers, interviewers, and candidates.

Achieve faster decision-making with ZappyHire's automated interview scoring system.

Helps decipher resumes and prepares customized questions for every candidate.
Price range: Starts from $39/recruiter/month
Further reading:
5. iView.ai
Founded in: 2020
Capterra rating: 4.7 (6 reviews)
Iview.ai helps software engineering recruiters assess hard and soft skills using its auto-evaluated video interview platform. It offers various interview assessment types such as multiple choice questionnaires, automated code evaluations, short subjective formats, and more.
To save recruiters time interviewing unfit candidates, iview.ai shortlists candidates before they appear for interviewees.
What's good about iview.ai?
Offers a unique conversational assessment platform — Avi (Automated Video Interview), that mimics an in-person interview. It reduced about 20 hours of recruiters' manual effort.

Bulk auto-evaluation of candidates' performance fastens the selection process three-fold.

Assess coding skills in over 40+ web and mobile development programming languages, perform grammar checks, evaluate candidates' presentation skills, and make well-informed unbiased decisions.
Price range: Starts from $3.5/candidate
Further reading:
6. Talview

Founded in: 2017
G2 rating: 4.5 (33 reviews)
Tired of cumbersome interview processes taking up the majority of your time? Talview offers an intelligent end-to-end automated hiring and proctoring solution. Screen any number of candidates effortlessly with its asynchronous video interviews and automated workflows.
The tool reduces the number of steps in the usual interview process and expedites the hiring process by up to 60%.
What's good about Talview?
Flexible interviews by letting candidates attend video interviews on their mobile phones. You can conduct uninterrupted interviews irrespective of the candidates' internet speed.

Talview's on-demand video interviewing process cuts the standard interviewing process by 65% and helps make candidate elimination faster.

Offers actionable, prescriptive interview insights that help you assess fairly and monitor bias. These insights ensure a good talent measurement process for smarter hiring decision-making.

The tool lets you evaluate candidates instantly by allowing you to share feedback during and after interviews with its in-built customizable evaluation forms.
Price range: Custom pricing
Further reading:
Wrapping up
Before you choose the right assessment tool for interviews, ensure you reverify the checklist of all the mandatory features an interview assessment software must have. This way, you leave no room for any plausible hiring mistakes that can cost your company wasted time and effort.
Optimized, streamlined interviews help you make intelligent hiring decisions faster, saves time, automates the remote video interviewing process, performs smooth skill assessments, and are highly compliant with security standards. And one tool that contains every such vital feature and stands apart from the rest is iMocha.
FAQs
What are interview assessment tools?
Interview assessment tools help hiring managers and recruiters assess candidates' skills by automating the interview process. It measures a candidate's performance and evaluates their competency based on the applied role. You can efficiently test coding skills, English proficiencies, skill-based tests, and more. Overall, it reduces the usual time and effort spent by recruiters to hire suitable candidates.
What are the benefits of interview assessment tools?
Interview assessment tools eliminate the risk of unconscious bias and promote fair hiring methods. They effectively reduce a company's time and effort conducting bulk interviews and provide reliable solutions for quicker hiring. Also, with advanced technology, these interview assessment tools shortlist candidates before they appear for real-time interviews, thus, fast-tracking the entire interview process.
Why are interview assessment tools used in recruitment?
Interview assessment software helps eliminate the candidates that are not the right fit for your offered positions. This helps companies save money that would've otherwise been spent training the incorrect candidates. Apart from verifying academic qualifications, interview assessment tools also evaluate candidates based on their soft skills and verify if they are the perfect fit for the company's culture.