Building a talent strategy, acting as an action plan for managing your talent efficiently and creating a future-ready workforce, is one of the ways through which HR professionals can enhance their organization's business growth and performance. Research shows that if your organization has an effective talent strategy, it can help them increase their earnings by 15% compared to their competitors.
Well, there is more to it.
So, why don't we explore more on what talent strategy is, its benefits, and the steps involved in creating one?
What is talent strategy?
In simple terms, talent strategy, also known as a talent management strategy, is a plan that helps organizations source, hire, engage, retain, and develop diverse talent pools.
Although many organizations want an effective talent strategy, many still need to initiate the groundwork for creating one. For instance, as per a recent survey conducted by McKinsey, including 1820 HR participants, only 5% responded that their organization has an effective talent management strategy, improving their company's performance.
Therefore, in reality, most organizations, regardless of their size, industry, and geographical presence, need to create an up-to-date talent strategy for improving business, employee morale, productivity, and HR functionalities.
Now, let's look at how companies can determine if their talent strategy is effective.
According to the same report from McKinsey, organizations can identify if they have an effective talent management strategy if they have the following:
Rapid talent allocation

HR's involvement in employee experience

Strategic-minded HR
But there is more to it, which involves creating an effective talent strategy, and we will examine some critical steps in this process shortly.
As discussed earlier, a talent management strategy must consider all aspects of HR functionalities. Among them, an organization's talent acquisition and development strategies are the most discussed. So, why don't we dive deeper into their specifics?
Talent Acquisition strategy:
Before we move any further, here is a simple clarification. Recruitment and talent acquisition are similar. But they aren't the same.
Recruitment focuses on identifying job vacancies and hiring for these roles. On the other hand, talent acquisition delves into short- and long-term goals of hiring new employees. You can also bring in diversity with your talent acquisition plans.
Therefore, while creating a talent acquisition strategy for your organization, you have to keep a few things in mind to ensure that they are effective and facilitate you with the desired results. They include:
Focus on your hiring requirements, such as the type of hire required for the role and its budget

Ensure that proper employer branding is in place, highlighting the work culture and why your organization is a great place to work

Analyze your internal talent availability and try to hire within

Gain clarity on employee requirements

Bring in referral programs to reduce costs and improve your hiring quality



By the way, you can learn about how to build a campus recruitment strategy by referring to this resource linked here.
Talent Development strategy:
A talent development strategy is critical nowadays as skills are drastically shifting, and organizations must take the right initiatives to attain the desired business growth. Therefore, while creating a talent development strategy, ensure it aligns with your business and its skill requirements. You can conduct a skills gap analysis as it will allow you to identify the hard and soft skills requirements in your company.
Besides, offering adequate and relevant talent development programs can provide growth opportunities for your employees. However, as part of democratizing learning and deploying your talent development strategy, you can rely on a skills intelligence platform.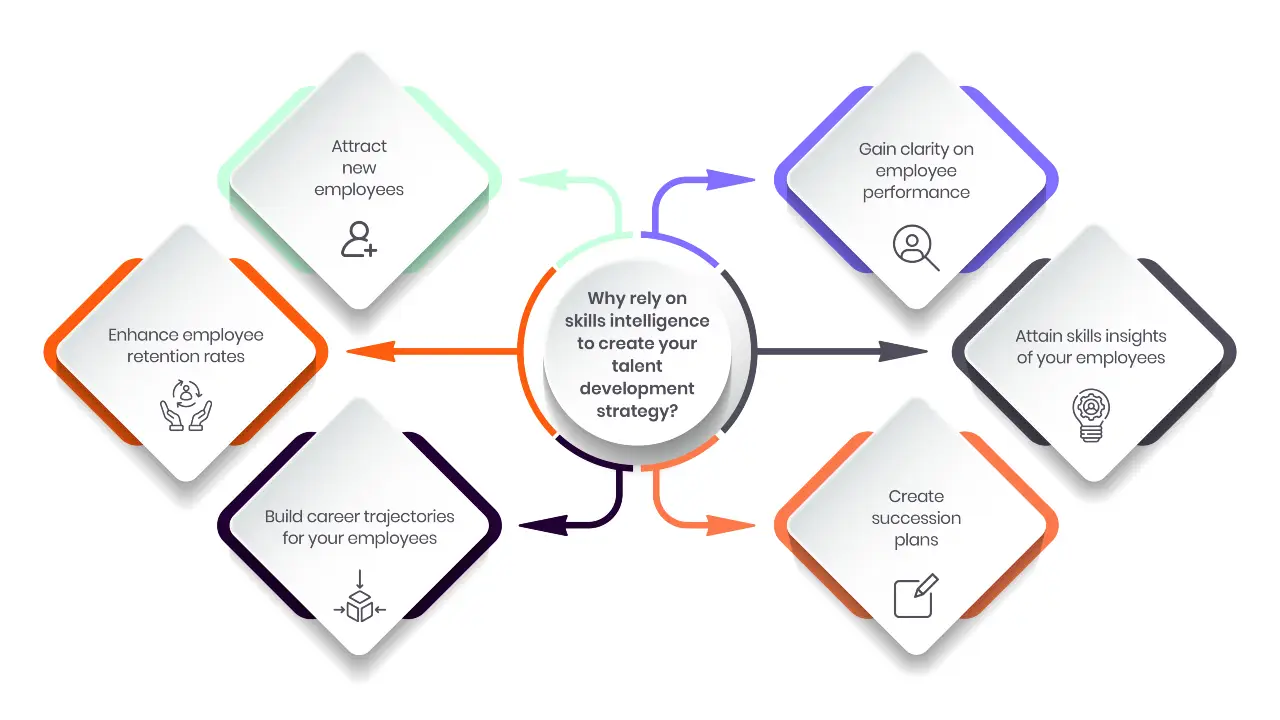 By the way, while creating your talent development plan, try to blend different learning methods, as one size won't necessarily fit all. You can also opt for customized career development plans, mentorship initiatives, and internal and external training programs. Along with attaining business growth and building a future-ready workforce, ensure that your talent development strategies focus on nurturing a growth mindset in your employees.
Benefits of building a talent strategy
Along with building a future-ready workforce, a pool of benefits is associated with creating an effective talent strategy for your organization. They are as follows:
Enhance business growth and help your company move further close to achieving its business goals

Improve your organization's overall performance

Increase the total returns to shareholders for public organizations

Design recruitment plans for hiring internally and externally with rapid talent allocation

Source, attract, and retain top talents for a long haul

Identify and close the skills gap by finding new skill requirements

Conduct talent reviews, initiate succession planning processes, and performance management effectively

Develop internal talent and prepare them for the future

Improve employee experience

Reduce hiring time and cost
Steps to consider while creating a talent strategy
Building an efficient talent strategy is integral for creating a resilient and agile workforce aligning with your organization's business and talent requirements. Based on this, now, let's explore the steps to consider while creating an effective and up-to-date talent strategy for your organization.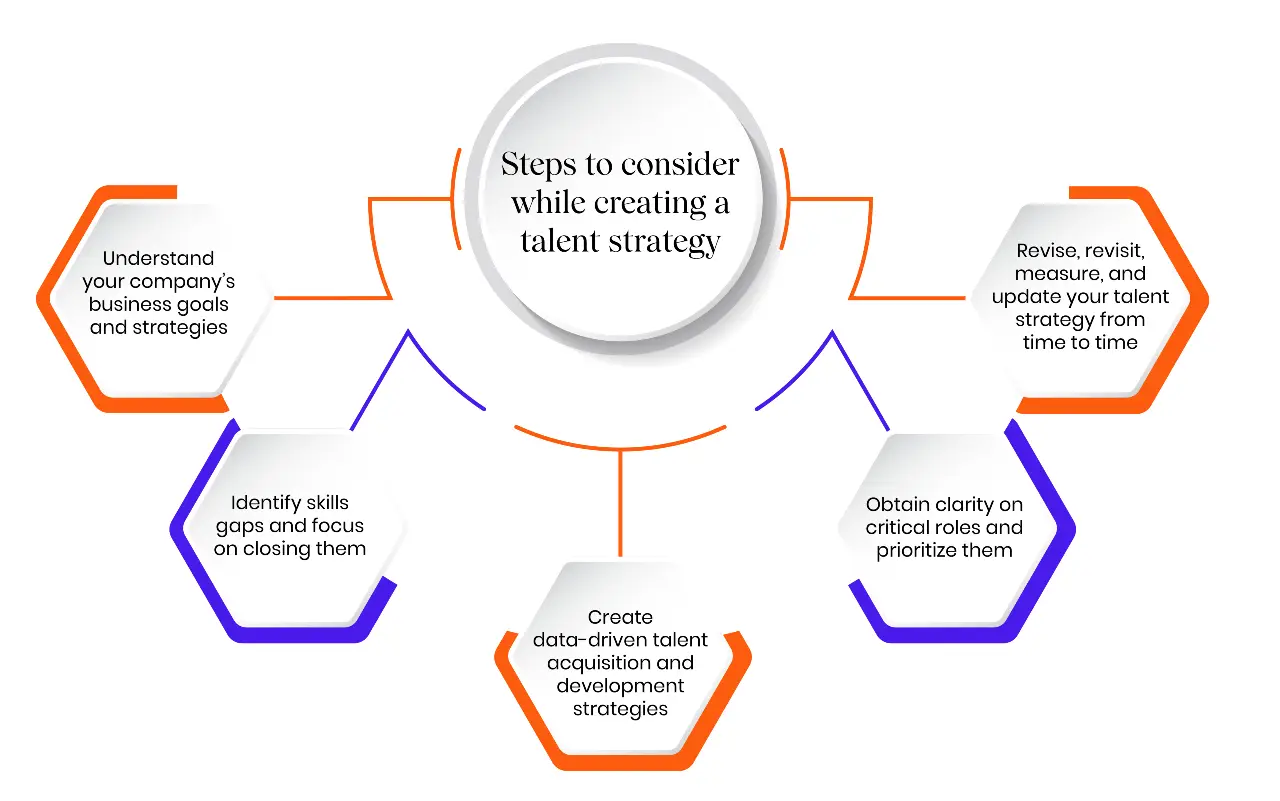 Understand your company's business goals and strategies
As an HR professional, one of the first things to consider before designing or updating your organization's talent strategy is to gain clarity on your company's business goals and strategies. CHROs and HR leaders can obtain this by openly conversing with the c-suite executives, like the CEO.
Based on the business strategy and goals, you can work on your company's talent strategy by clearly defining your talent needs. While setting up your organization's talent strategy, don't forget to consider your company's KPIs and focus on your company's strategic priorities.
Also, remember that these business goals and strategies might shift or change. Therefore, aligning your talent strategy and ensuring it supports your company's ultimate goals is essential.
Identify skills gaps and focus on closing them
As per a report from Gartner, 70% of the participants stated that they lack mastery over the skills required for performing their jobs well. Additionally, as we all know, skills are drastically changing, and their shelf lives are declining rapidly.
Since HR professionals would face an urgency in filling these skills gaps, they must strategize their talent plans accordingly. While doing so, it is critical to consider the following:
How bad is the situation?

Is this talent requirement a priority?

What is the best way to tackle this issue?

Should the focus be on hiring? If so, should it be internal or external?

Can this issue be resolved via upskilling?

What measures can be taken to avoid such a concern in the future?
In short, answering these questions and acting accordingly will help when there is a skills gap. However, you can proceed or reach this point and attain the desired results only with an effective talent strategy.
You can now perform skills gap analysis using AI tools like a skills intelligence platform. Through this, you can precisely understand skill shortages, requirements, and how to resolve these issues in your company.
Create data-driven talent acquisition and development strategies
Whether it be acquiring new talent or retaining and developing existing talent, ensure your talent strategy is data driven. You have to consider both internal and external data points to gain clarity on how to shape your talent strategy. Here are two things to look into:
Focus on your employees' skills inventories from which you can gain insights on skills gaps, areas of scope, and improvement within your organization

Evaluate labor market insights to understand new skills requirements and assist in benchmarking salaries
As you already know, performing these tasks manually would be challenging and time-consuming. But, you can conduct them efficiently without errors by relying on HR tech tools like skills intelligence that can provide accurate data metrics.
Obtain clarity on critical roles and prioritize them
One of the crucial things to add as a priority while creating a talent strategy is to focus on critical roles. They might not just be in the leadership. Hiring employees with niche skills can be challenging in your industry and, thus, critical. Therefore, as an HR professional, you have to identify these roles and strategize accordingly. A few things that you can do are:
Analyze the employee retention rates of these employees by relying on predictive analytics and form plans for reducing their turnover.

Create a diverse talent pool so you won't be at a loss when such critical employees resign.

Ensure that there are ample training and mentorship initiatives to prepare talent internally and to retain institutional knowledge.
Well, this is just the tip of the iceberg. You can learn more about the same from our blog on succession planning.
Revise, revisit, measure, and analyze your talent strategy from time to time
Creating a talent strategy is just one part of the whole process. You must revisit and update the talent strategy based on labor market intelligence and your employees' skills data. While doing so, you must be open to considering the feedback your employees and prospective candidates offer for refining and improving your talent strategy.
Along with this, like any process within your organization, you must analyze, measure, and monitor the results gained after adopting this newly introduced talent strategy. This can also aid in enhancing your talent strategy further.
Other things to consider while setting up and implementing a talent strategy :
Always analyze talent supply and demand whenever there is a talent requirement within your organization

Focus on employer branding as part of implementing your talent strategy to ensure that the Employee Value Proposition (EVP) is communicated in a better way to attract the right talent

Create and rely on an organizational structure, which will help understand career demands and requirements

Ensure that the activities in your talent strategy stay within your HR budgets

Always offer the benefits and rewards outlined as part of your Employee Value Proposition in your talent strategy, as it would improve employee satisfaction and retention rates
Final thoughts
Thus, working on an effective talent management strategy or simply a talent strategy and implementing it can benefit your company in countless ways. So, why not get right into it by making the best out of AI-powered tools like skills intelligence that can support you through the process?
Are you struggling to identify the skills you need to stay ahead of your competition and build an effective talent strategy? Try iMocha!