A recruiter not only wants to attract the most acceptable candidates for an open position but also aims to make the process as smooth as possible for both parties. But in today's highly competitive job market, the talent acquisition process needs to be fast, efficient, and thoroughly streamlined.
But excellent talent acquisition can be strenuous if done manually and becomes almost impossible to accomplish effectively in bulk hiring. That is where talent acquisition tools come in.
Talent acquisition tools are recruitment software that automates and streamlines the hiring process by leveraging technology like automation, artificial intelligence, and machine learning. These tools help automate sourcing, screening, and interviewing candidates and offer integrations with existing HR systems.
Talent acquisition tools quickly assess candidates' skills, get quantifiable reports, and manage candidate pipelines efficiently. But with a plethora of available options, which one should you choose?
To make your decision easier, we have compiled a list of the best talent acquisition tools of 2022 that will bring the finest candidates to the forefront and make recruitment a cakewalk for your company.
Top Talent Acquisition tools for pre-employment assessments
1. iMocha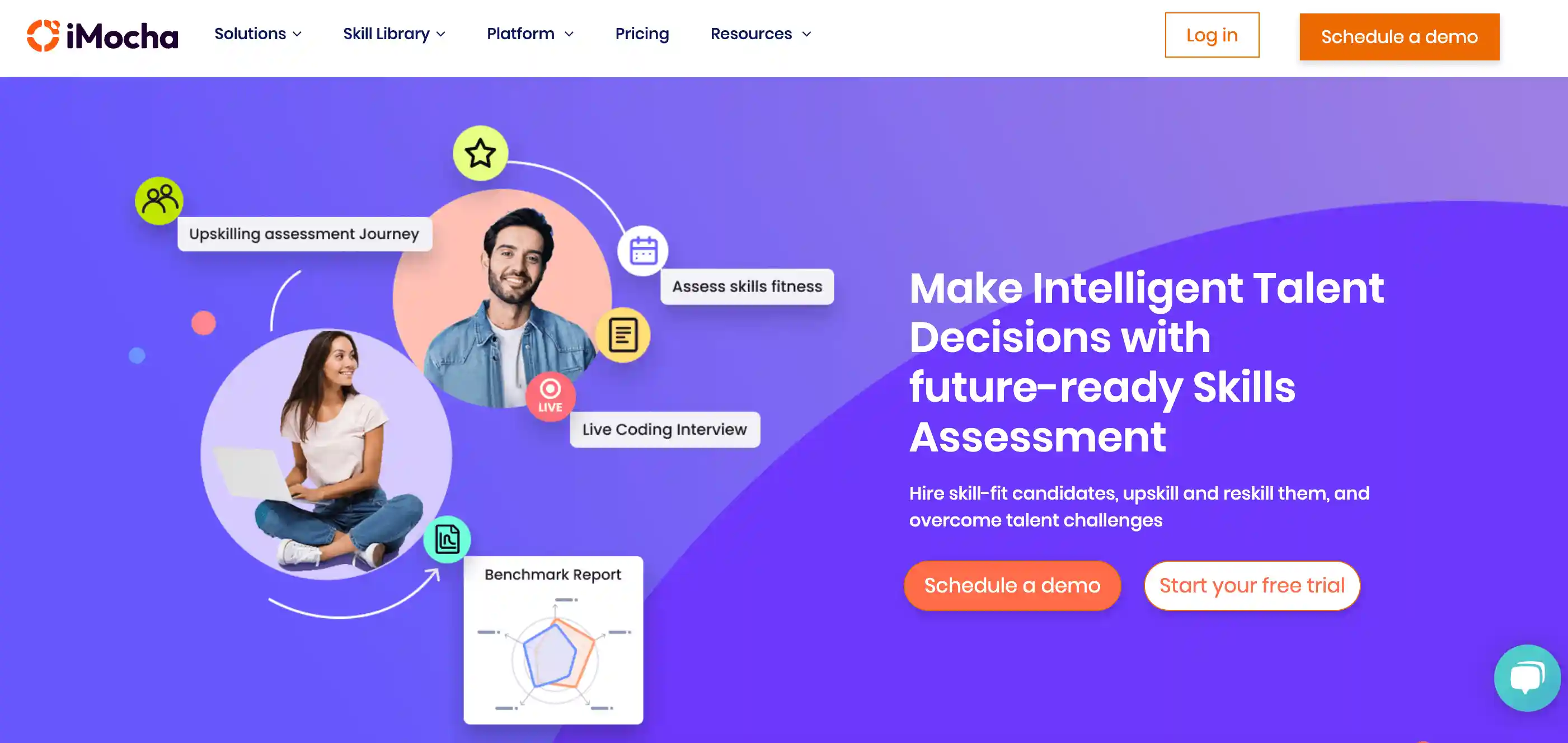 When it comes to efficiency and features, very few talent acquisition tools can match iMocha's range. It offers the world's most extensive skill assessment library with 200+ holistic skill tests, which include 500+ IT skills, 50+ Next-Gen skills, 25+ Coding languages, 20+ Domain skills, 20+ Cognitive tests, and much more. Users can customize their skills assessment by an expert in the field in only under two days.
Besides assessments, iMocha has superior analytics that can quickly determine objective ROI and measure your training effectiveness. Its cutting-edge and data-driven technology allows you to identify skill gaps by benchmarking your company's skill index and generating accurate competency reports.
Pros:
Accurate analytic reports with candidate and organizational level analytics

Extensive resource library with over 2500 skills and 100,000+ questions

Customizable assessments - with a turnaround period of 2 days for all assessments

Proprietary assessment types for tech hiring

Candidate masking features for bias-free hiring

Organizational skills benchmarking features to help you create a skill taxonomy for your department/organization

One-click integrations with legacy ATS, sourcing platforms, CRM, and more (tech support is provided by the team if integration with your preferred platform isn't available)

Single sign-on, plug-and-play integrations, role-based access control for users, and more enterprise-ready features
G2 Crowd Rating: 4.5 (814 reviews)
2. TestGorilla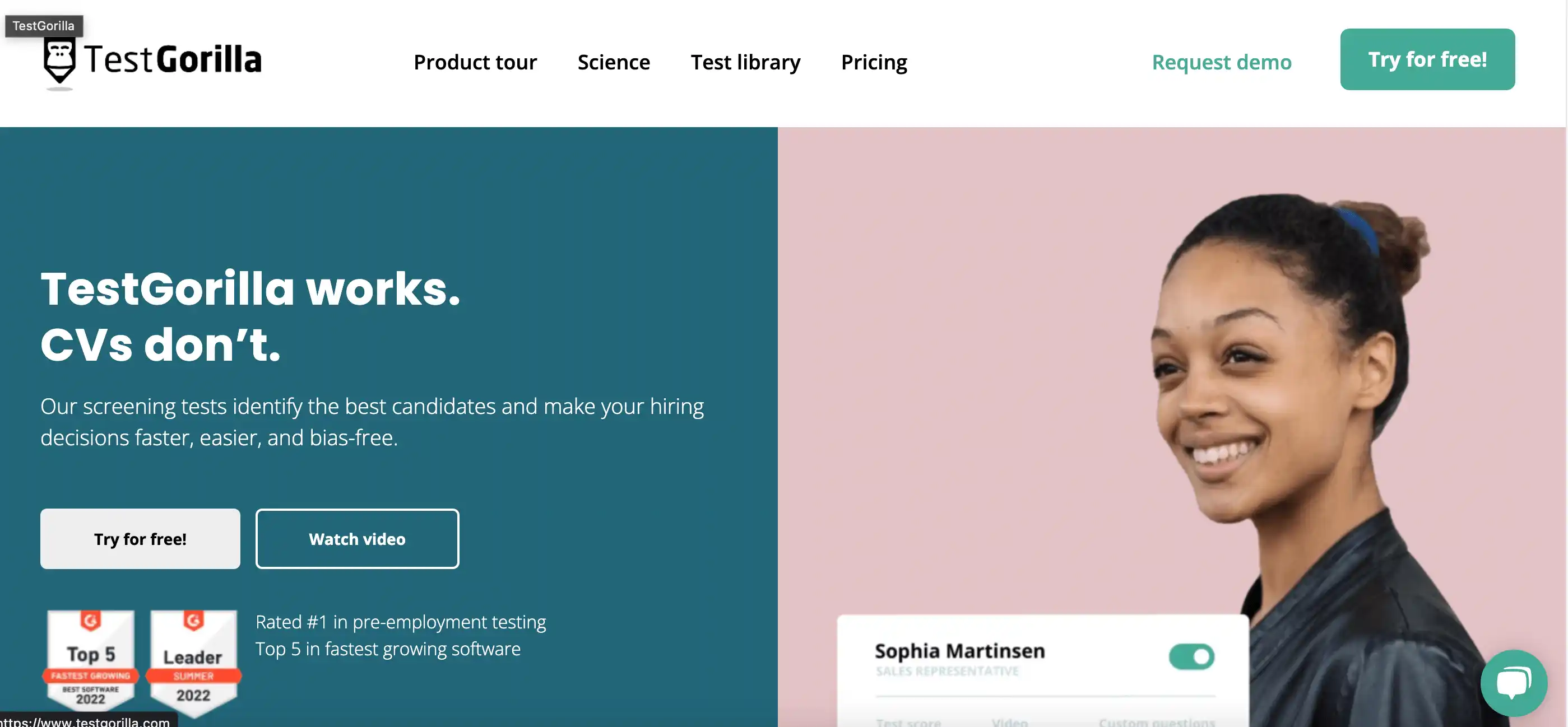 With a client base of 6200+ clients worldwide, TestGorilla offers one of the best tools to screen candidates. You can acquire the best talent by predicting real-life performance with comprehensive screening strategies. Multiple test types are available for each assessment in this talent acquisition application.
They also have a growing test library that includes cognitive ability, programming, software skill, personality, culture, language, and many more.
Pros:
Helps you make objective, unbiased hiring decisions

Fits businesses of all sizes and different recruitment campaigns

Predicts real-world job performance
Cons:
Fewer integrations when compared to similar HR tools
G2 Crowd Rating: 4.5 (814 reviews)
3. Test Dome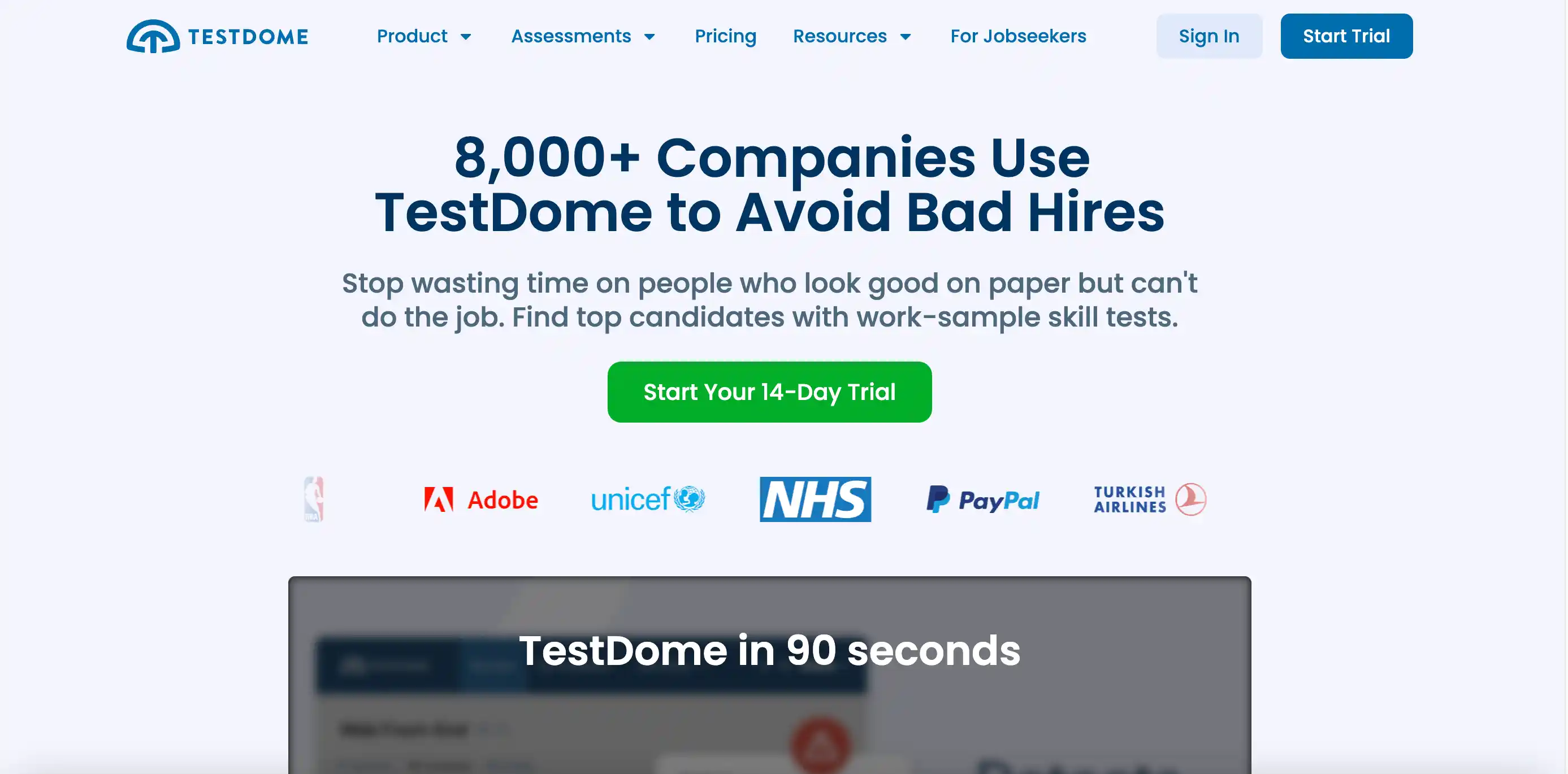 Next up on our list is Test Dome, a wide-ranging candidate assessment platform trusted by more than 8000 companies to avoid bad hiring decisions. It helps you find the top candidates with expertise for your vacancies through work sample skill tests.
The platform currently has more than 90 skills via work sample questions, which you can avail of for only $7 per candidate. Not an expert in certain skills to assess tests properly? From Java classes to excel formulas, Test Dome evaluates all questions automatically.
Pros:
Affordable

Automatic evaluations

Questions with high predictive validity
Cons:
No proper recovery mechanism in case of a typo.
G2 Crowd Rating: 4.5 (83 reviews)
Top tools for Video Interviewing
1. iMocha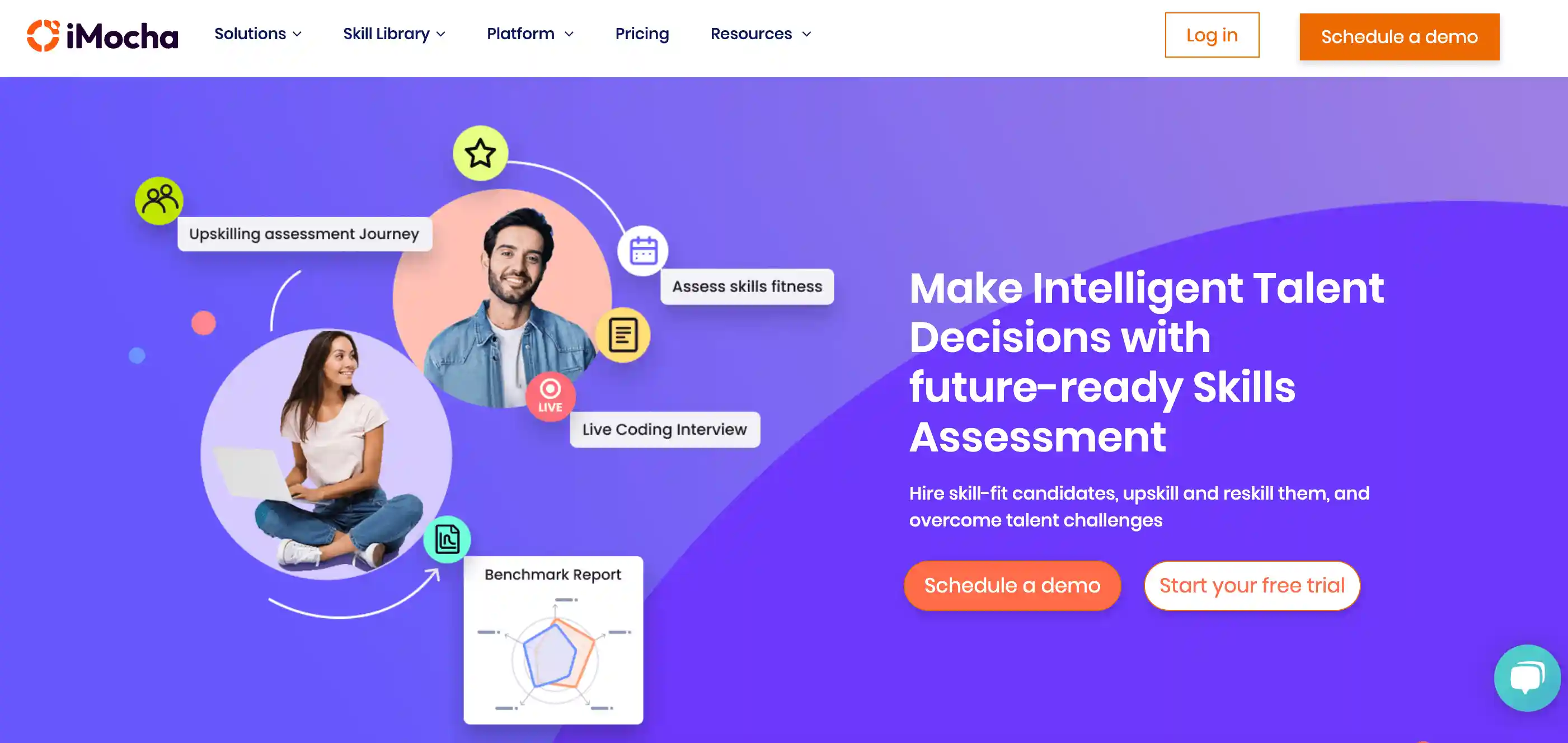 Besides different assessment tests, iMocha offers an incredible 'live interview' feature. This comes in handy, primarily if you are recruiting developers. The patented AI-LogicBox assesses the coding skills of candidates through live coding interviews. By merging assessment and interviews, such a feature saves your recruiting team's time and the company's expenditure.
Pros:
Outstanding customer service

Live Coding Interview for hiring managers to assess coding dexterity in a real coding environment

Code Replay to assess each code's logic and syntax

Assessments for 26 coding languages and all niche skills
G2 Crowd Rating: 4.5 (814 reviews)

2. MyInterview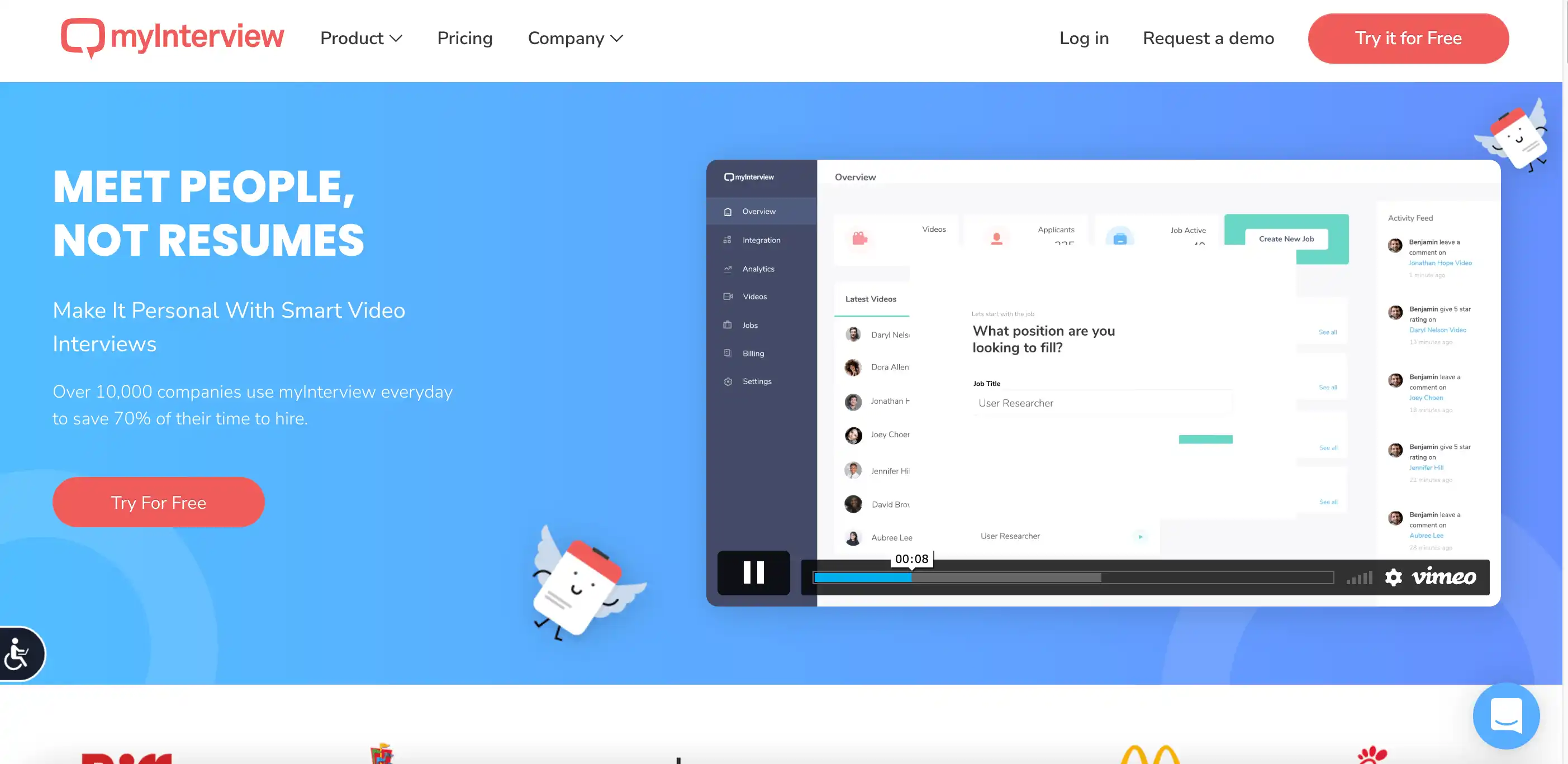 As one of the most popular assessment platforms these days, MyInterview eliminates the dependence on resumes by conducting intelligent video interviews infused with purpose-built machine learning algorithms to bring out the perfect match.
The platform has a 91% candidate completion rate, with an industry record of completing 71% of interviews in under 15 minutes. Trusted by over 1000 companies, MyInterview saves 70% of hiring time through bias-free, comprehensive video assessments.
Pros:
Faster recruitment process

Stellar customization and specialization

User-friendly for both companies and candidates
Cons:
G2 Crowd Rating: 4.8 (76 reviews)


3. Talocity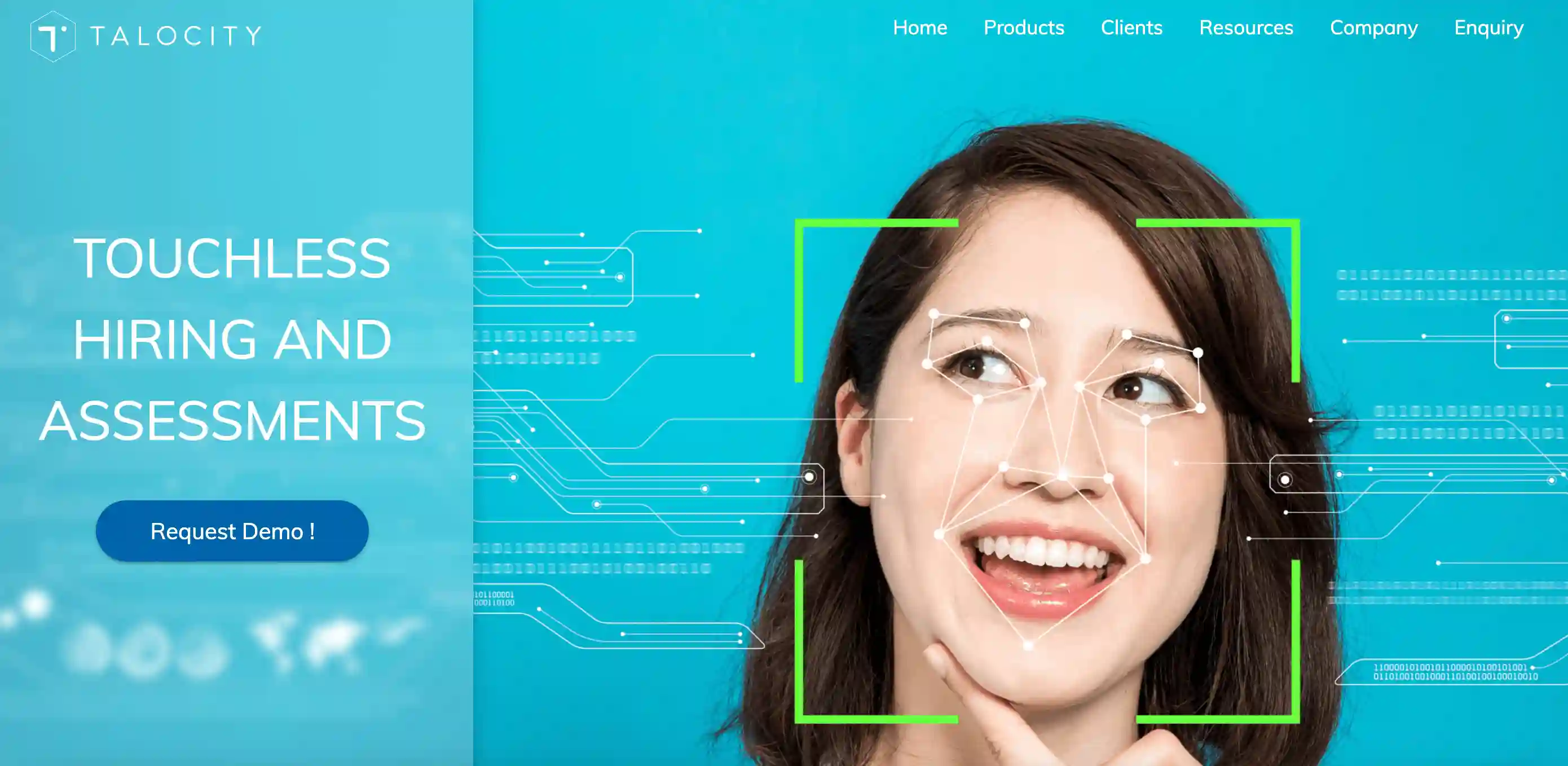 With psycholinguistic, psycho-graphics algorithms, NLP, and machine learning, Talocity will take your video interviewing process to a new level. It enables you to assess candidates' personalities, proficiency, motivation, and expertise in a single video interview.
This software evaluates voice skills through machine learning and supports multiple native accents. You can also customize your assessments using Talocity's intuitive and configurable multi-section assessment system. This talent acquisition application provides real-time results on the candidate level.
Pros:
Short and data-driven interviews

Supports different native accents
Cons:
A few reported technical glitches
Top Candidate Sourcing tools
1. AmazingHiring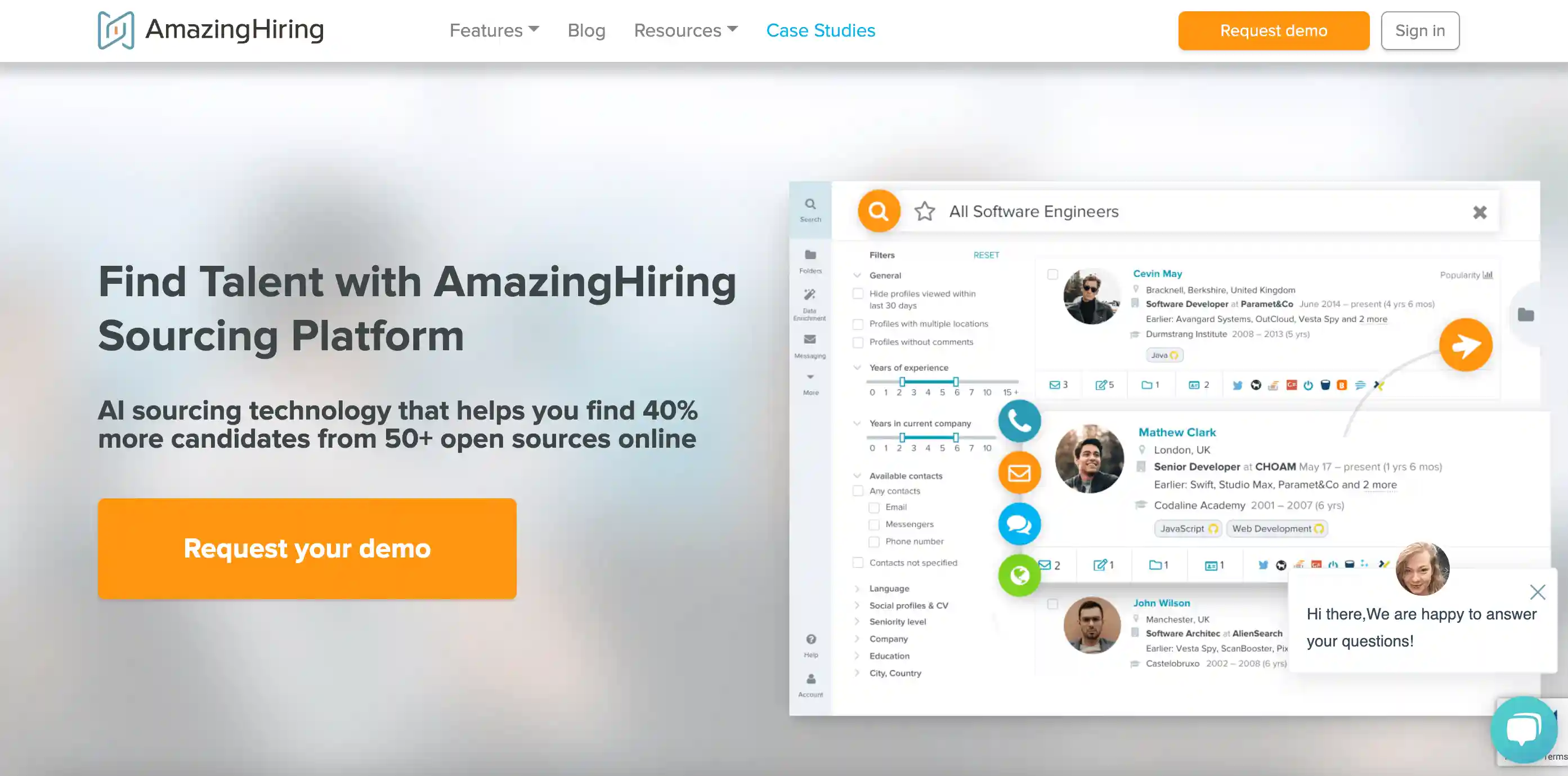 AmazingHiring provides instant access to 600,000,000 profiles worldwide aggregated from 50+ resources. The tool allows users to send personalized emails to candidates in bulk, schedule follow-ups, and track the engagement metrics on the platform itself.
Their unique AI technology creates a relevant candidate pipeline for all your vacancies. With just a few clicks, you can source candidates across all major social networks and professional communities like Kaggle, GitHub, StackOverflow, etc.
Pros:
Easy to search and set filters according to the requirement

Intuitive, simple, and convenient

Amazing hiring extension
Cons:
Experience details are not visible all the time.
G2 Crowd Rating: 4.7 (5 reviews)


2. Arya by Leoforce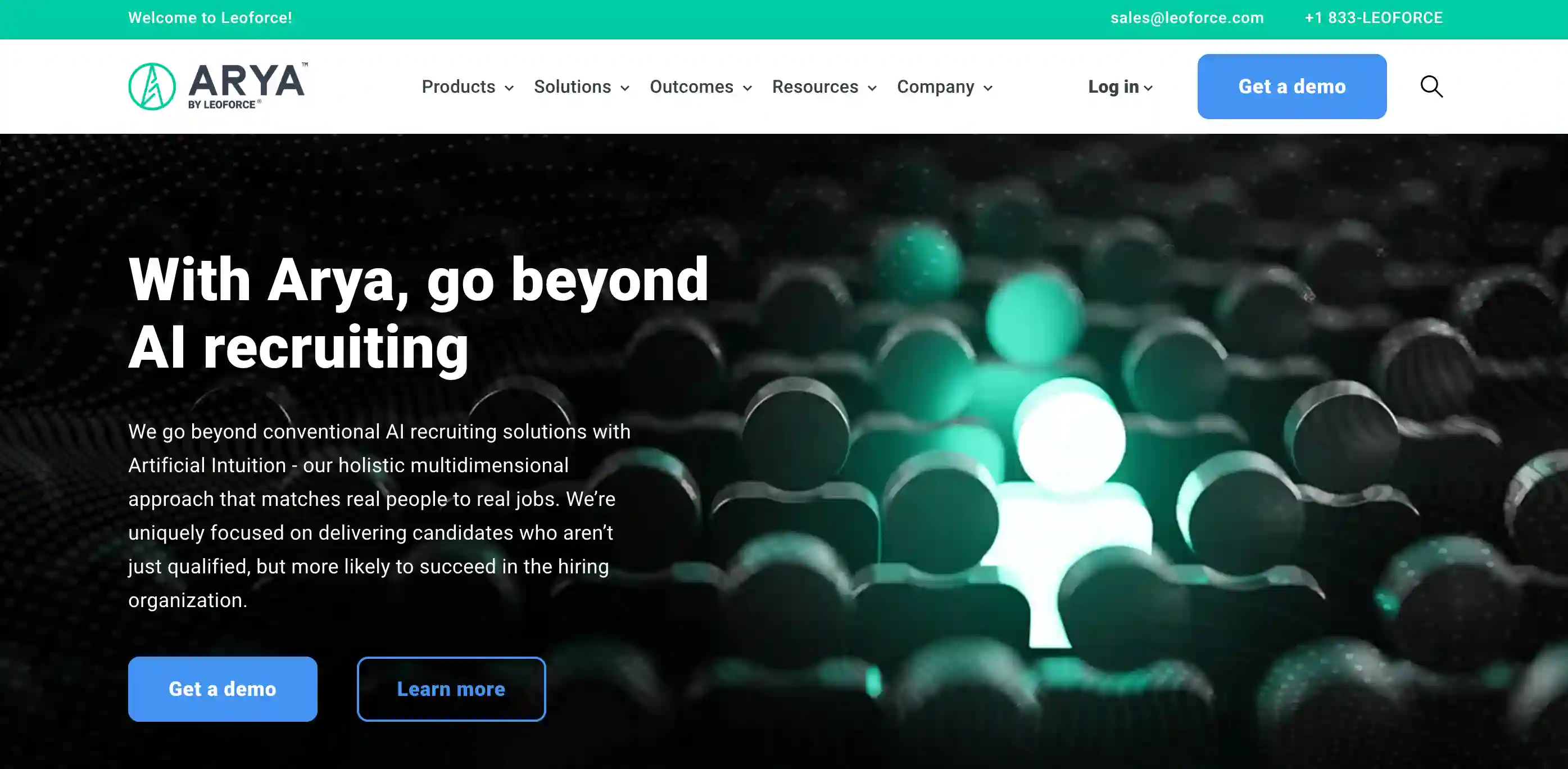 Arya is a next-generation AI candidate sourcing solution, delivering qualified and compatible talents for open roles. The platform is customizable according to business types, industries, hiring volume, or budget. Arya also provides on-demand solutions for infrequent recruiters.
Arya supports integrations with 70+ free and premium sources. You can integrate the tool with your ATS and engage the candidates by talking, texting, emailing, and chatbot from one consolidated talent acquisition application. Arya also offers predictive analytics and data-driven insights to improve your talent pipelines. Thanks to its unified dashboard, you can track each task and recruiter's progress in one place.
Pros:
Custom integration

Easy to use

Custom candidate list via artificial intuition, predictive analytics, and proprietary machine learning models
Cons:
Rudimentary user interface
G2 Crowd Rating: 3.8 (12 reviews)




3. HireEZ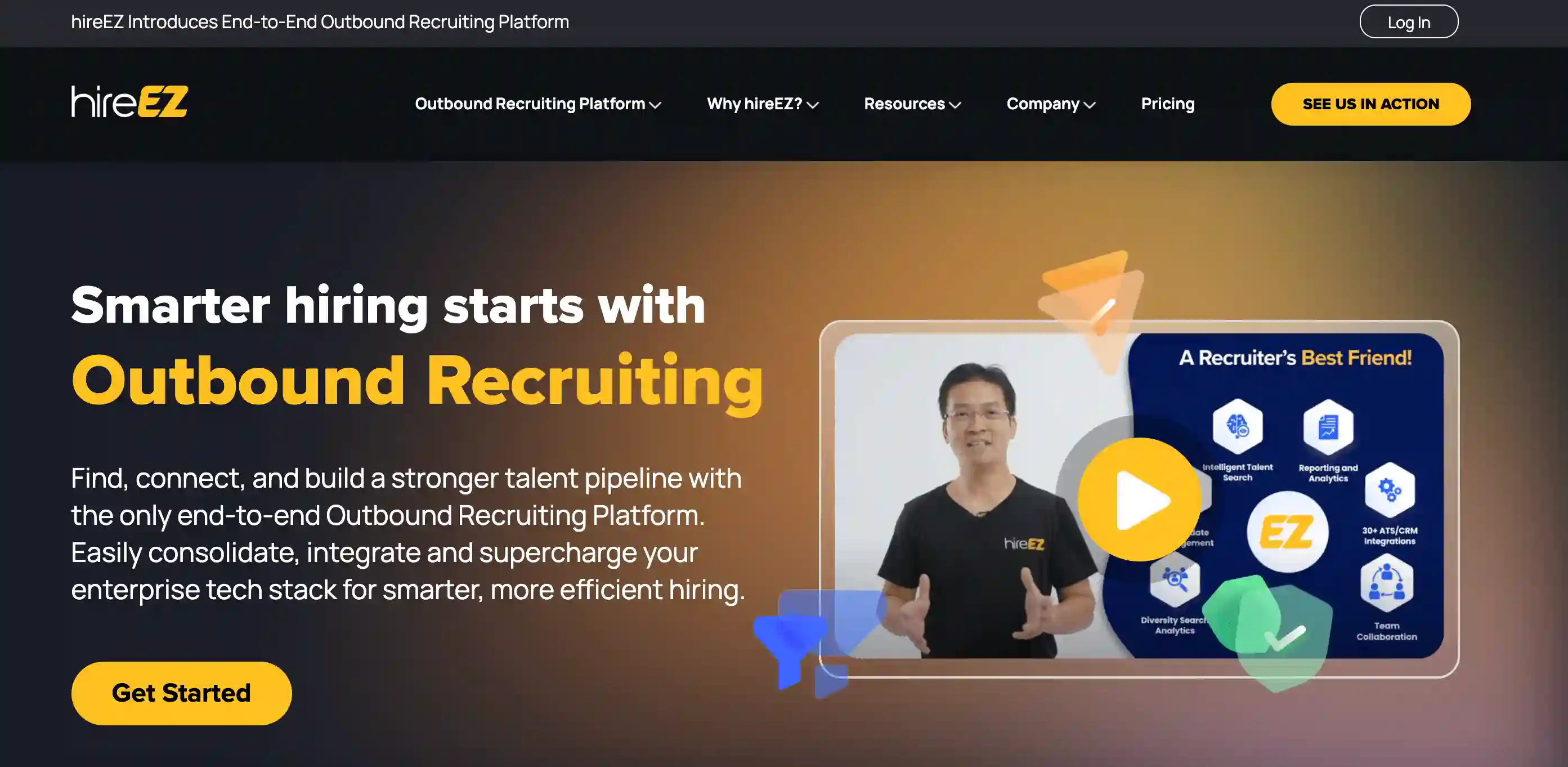 The high-functioning AI-powered search filters make HireEZ a unique candidate sourcing solution. It is especially handy for recruiters looking for specialized expertise as its advanced AI Sourcing can build targeted searches to uncover niche and hard-to-find profiles, enabling hiring teams to find five more qualified candidates.
The platform also easily integrates with popular applicant tracking systems and other recruiting platforms to keep candidate information centralized and up to date.
Pros:
Secure sourcing from 45 open web platforms.

The contact-finding success rate is about 85%
Cons:
On the more expensive side
G2 Crowd Rating: 4.7 (211 reviews)
Top CRM (Candidate relationship management software)
1. Avature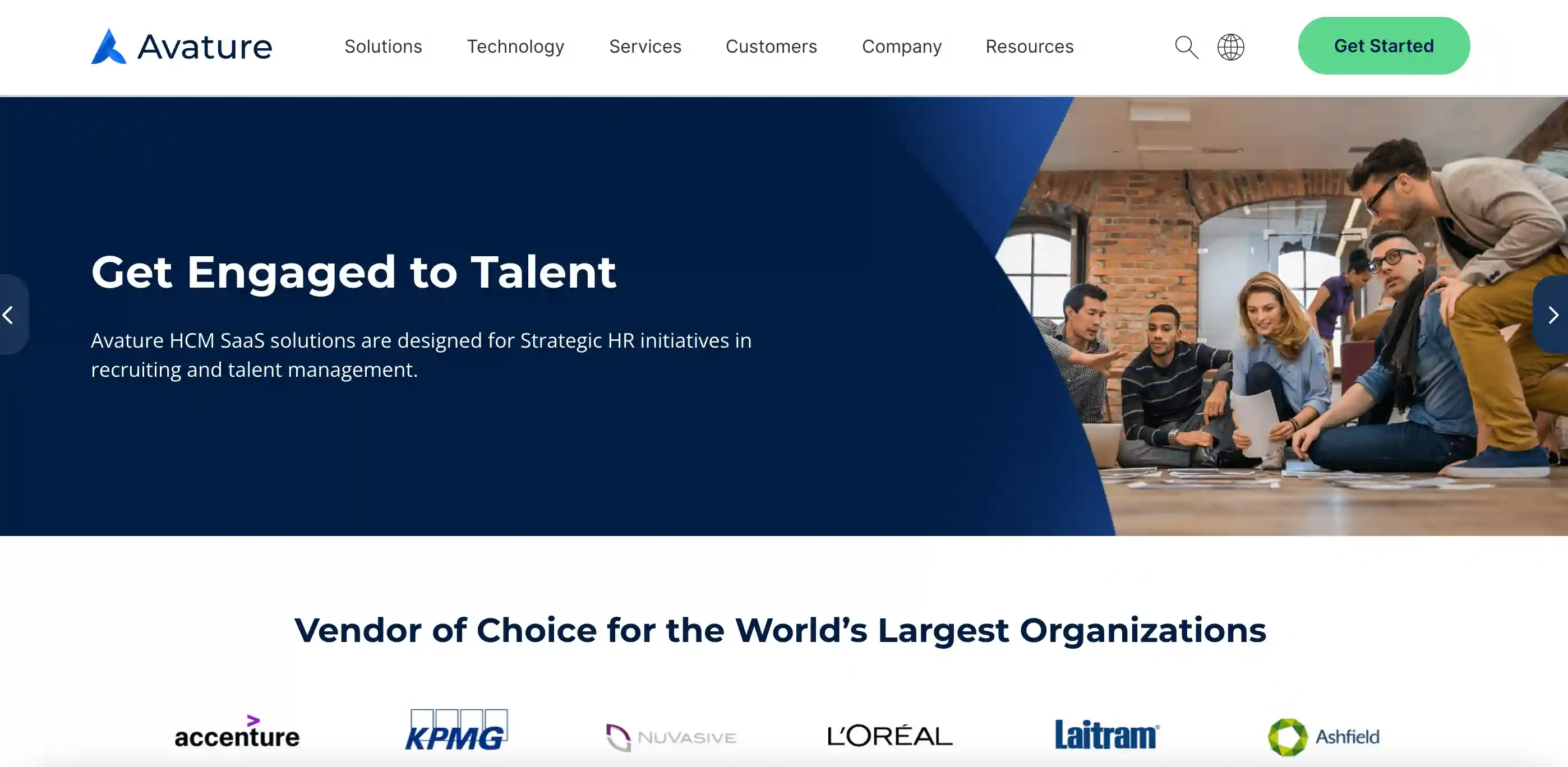 Avature brings you a one-stop platform for all your talent acquisition needs. Its HCM SaaS solutions are designed for Strategic HR initiatives in recruiting and talent management. Its unique quality lies in its flexibility. The system goes beyond workflow to extensible objects, a built-in portal builder, and custom APIs.
Pros:
Flexibility to solve modern time problems

Excellent and wide-ranging features

Easy to use
Cons:
Issues in the initial configuration
G2 Crowd Rating: 4.4 (71 reviews)
Reviews: "Avature has done so much for us in terms of streamlining our processes and access to information. It has also helped us a lot in our unique siloing needs to keep our Sales teams, TA/HR, Business Development and Management teams' data separate and secure."

2. Talemetry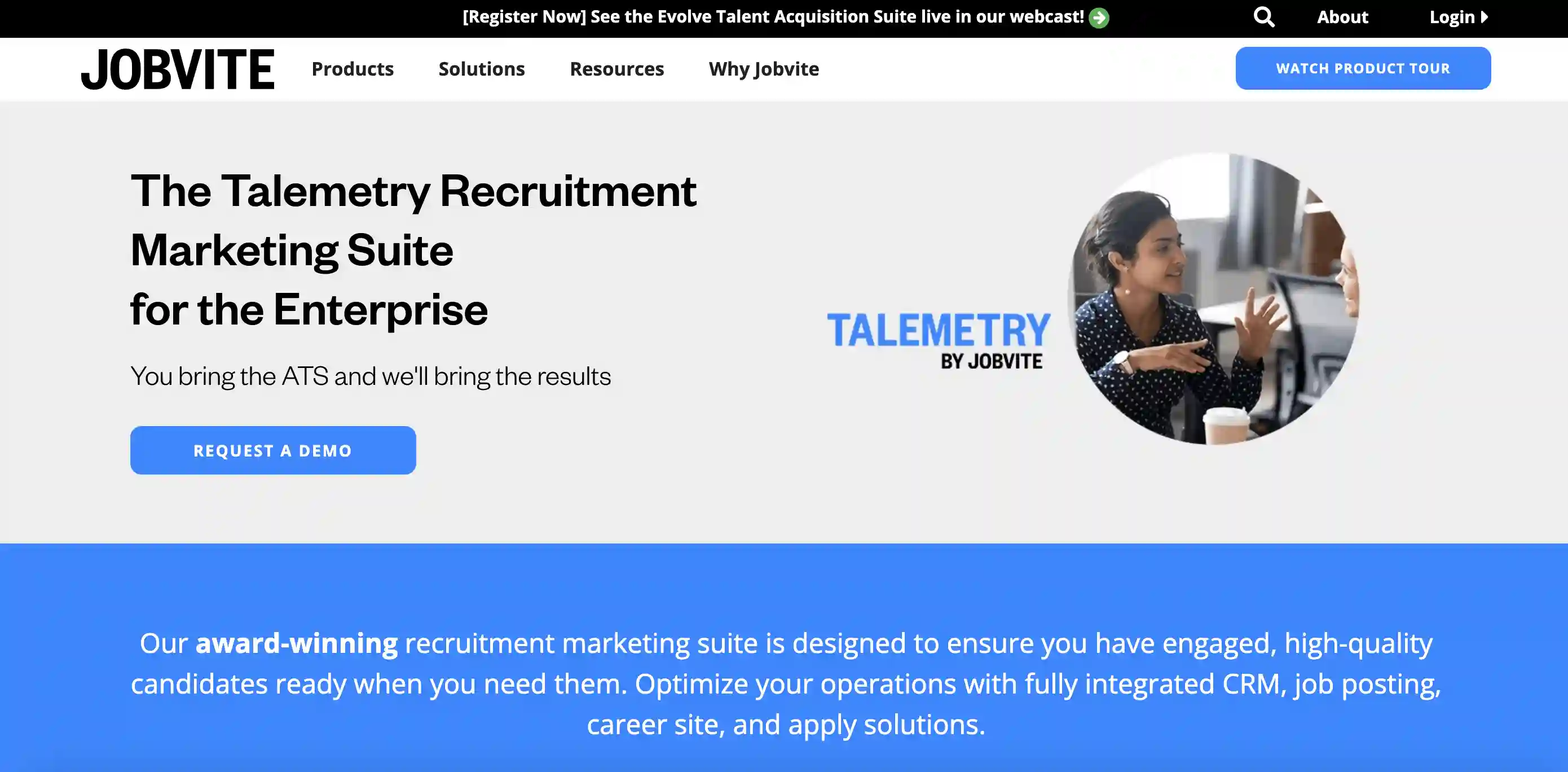 Talemetry by Jobvite is an enterprise-grade CRM platform with AI-powered automation and deep analytics capabilities to drive your candidate sourcing and conversion. It also takes care of the hands-on training and best practices to ensure your talent acquisition team delivers predictable, successful results for your business. Talemetry's Zero-Click Intelligent Sourcing or ZCIS sources candidates based on past hires for similar jobs, previously qualified applicants for similar roles, etc.
With this platform, you can amplify, automate, and optimize talent attraction and sourcing, build strategic audiences, interact with candidates through email, text, web, and social campaigns, track marketing effectiveness and ROI, etc.
Pros:
Premium analytics

Zero Click intelligent sourcing
Cons:
Technical glitches may occur at times
G2 Crowd Rating: 4.0 (1 review)

3. iCIMS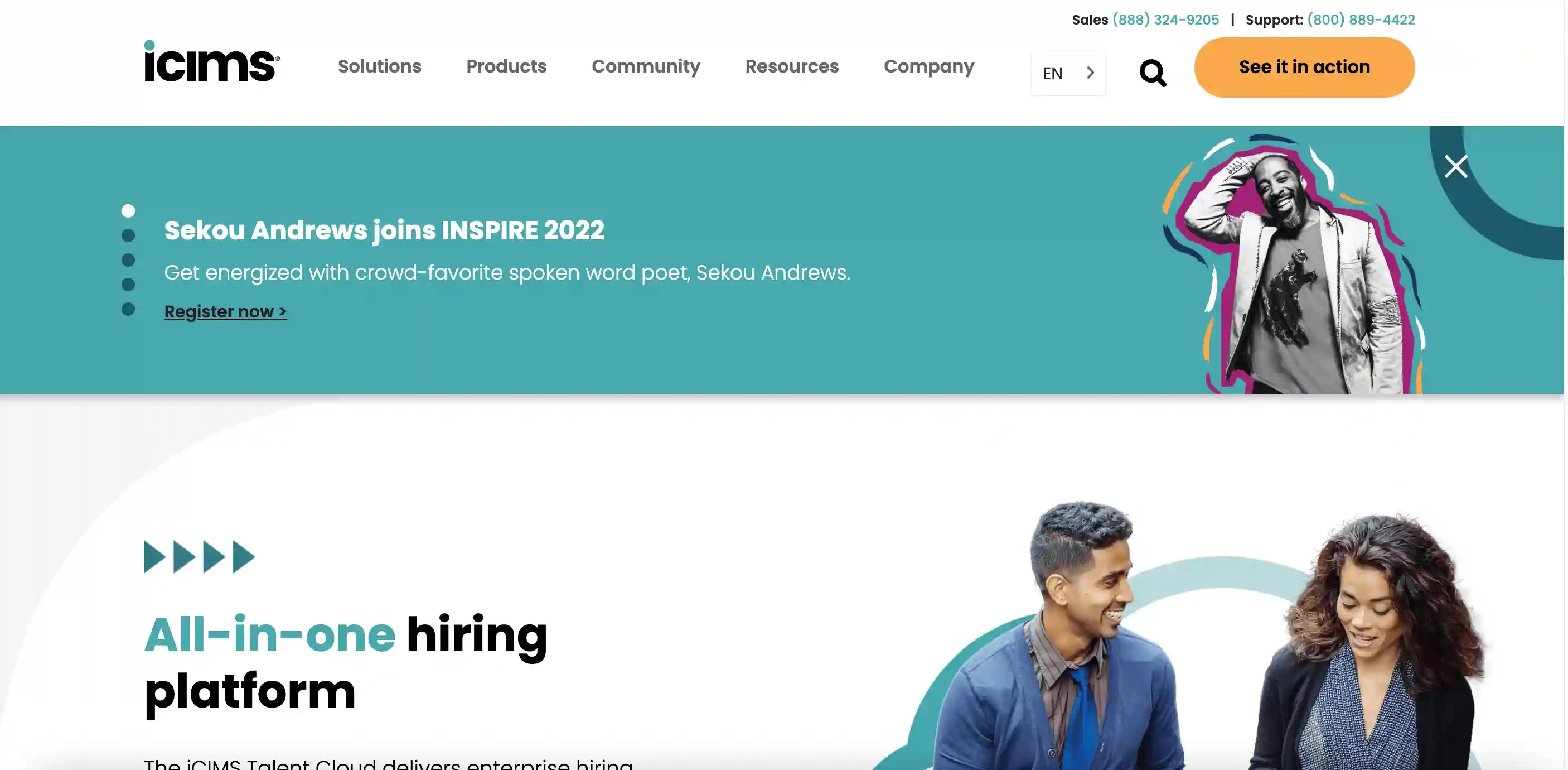 With 2.4 million users worldwide, iCMIS offers a robust suite of HR tools to help users build an effective candidate pipeline. You can feature your notable employees to attract a wider talent pool and can use different career sites, so that job opportunities reach suitable candidates.
This AI-powered software also makes it easier to apply from anywhere with just a text or virtual career fairs. iCIMS offers automation, personalization, and configuration to ensure candidates are fully engaged at every process stage.
Pros:
Easy to use

Tracks candidates according to current applications and previous applications.

It is a well-rounded talent acquisition application that offers good integration and premium consulting
Cons:
Reporting functions are limited to standard reports
G2 Crowd Rating: 4.1 (470 reviews)


iMocha has one-click integration with iCIMS to keep all your recruitment data in one place. Read more about it here
Top Resume Screening Tools
1. Ideal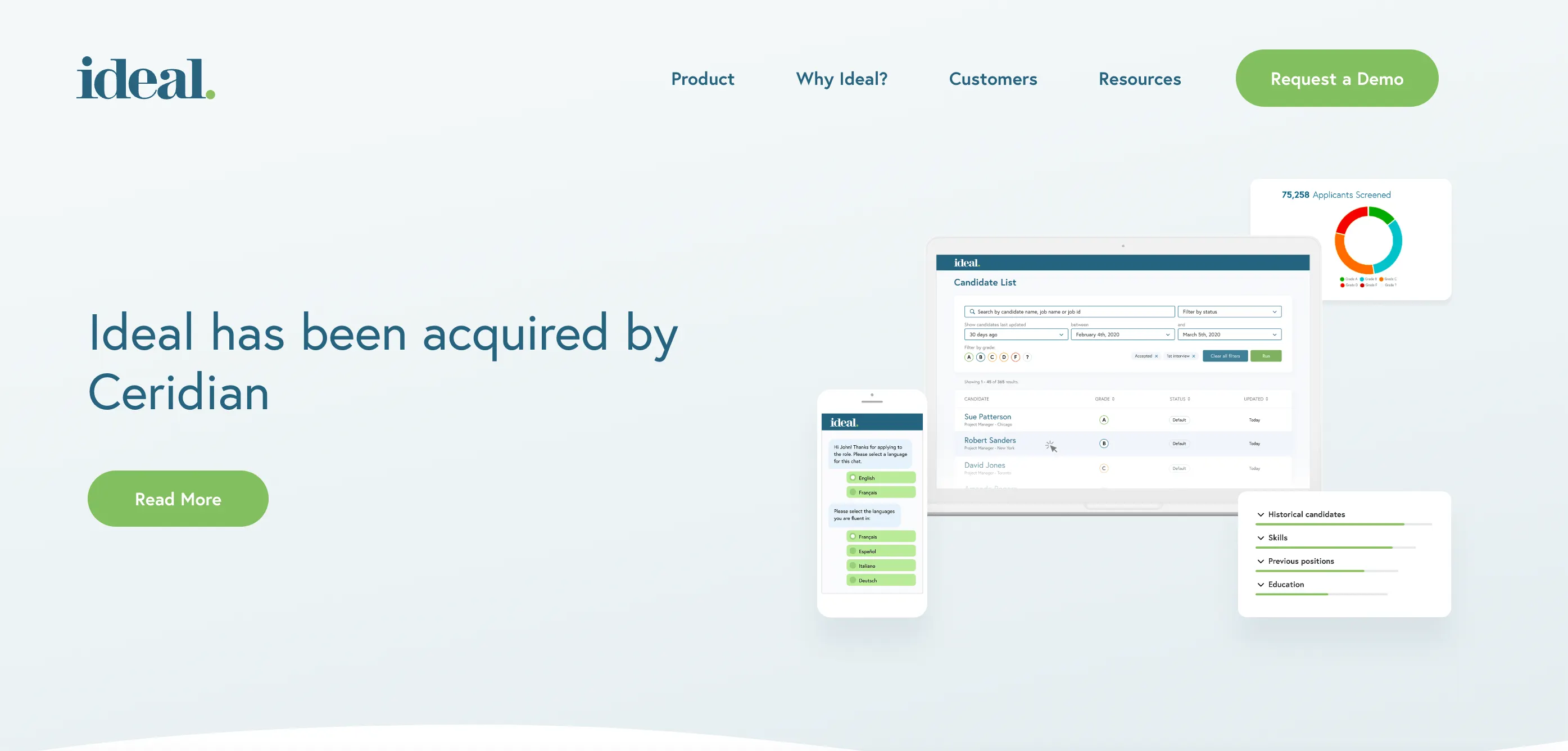 Ideal leverages Artificial Intelligence to ​​screen candidates faster, reduce time-to-fill, and decrease screening bias. The platform also engages candidates via chatbots and automates status progressions. Ideal reportedly brings a 70% reduction in time to fill, driving 50% fewer interviews and a 20% increase in retention.
The software seamlessly integrates into your ATS, including AI-powered resume screening, candidate matching, a chatbot, and automation. Its machine learning improves over time, utilizing deep learning to optimize results with transparent reporting.
Pros:
Comprehensive reports

Excellent customer support
Cons:
Slight learning curve for the algorithm
G2 Crowd Rating: 4.9 (14 reviews)


2. Hubert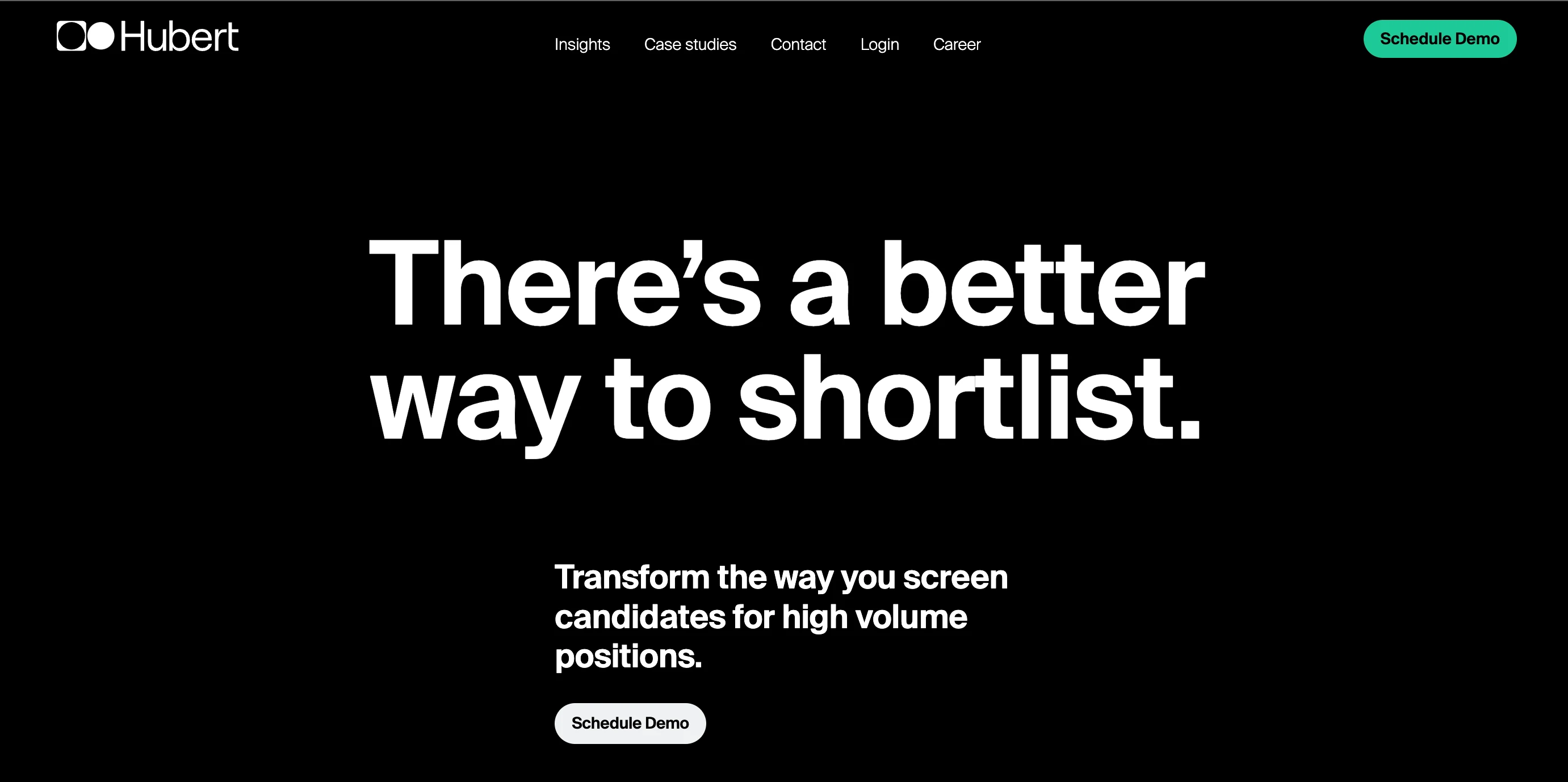 Hubert is a resume screening software that automates your hiring from application to shortlist and reduces rating variability. It conducts human-centric interviews where your candidates can speak their minds freely and showcase their skills without fearing any external bias.
Designed with accuracy and infused with explainability, this AI tool for talent acquisition instantly engages and shortlists thousands of candidates.
Pros:
Users spend 80% less time screening

Customizable assessments
Top Applicant Tracking Systems (ATS)
1. BambooHR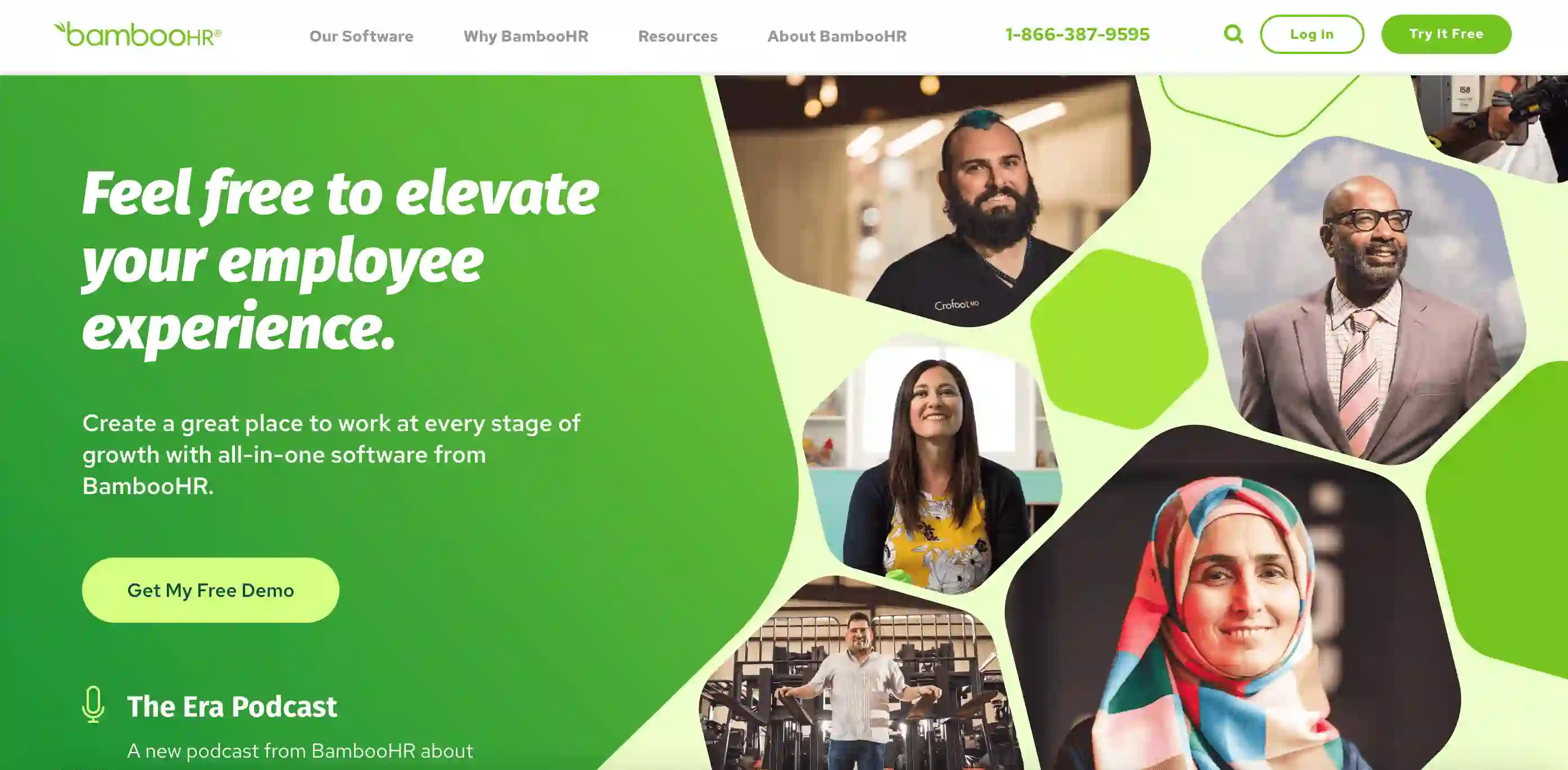 BambooHR is an all-in-one HR software that handles hiring and onboarding operations for small and medium businesses. The platform provides you with everything you need for effective and seamless talent management in your company.
With the e-signatures, seamless meet and greet, and centralized data storage system, BambooHR offers a wide-ranging solution for best-recruiting tools. The platform tracks time, manages payroll, and sorts out benefit packages. It adds a personal touch while quickly working on necessary forms and formalities.
Pros:
Clean and simple interface

Excellent customer support

Stellar integrations
Cons:
Not the best option for large enterprises
G2 Crowd Rating: 4.4 (1184 reviews)
Want to know more about how you can keep your BambooHR ATS data and assessment data all in one place? Read about iMocha's integration with BambooHR here




2. Bullhorn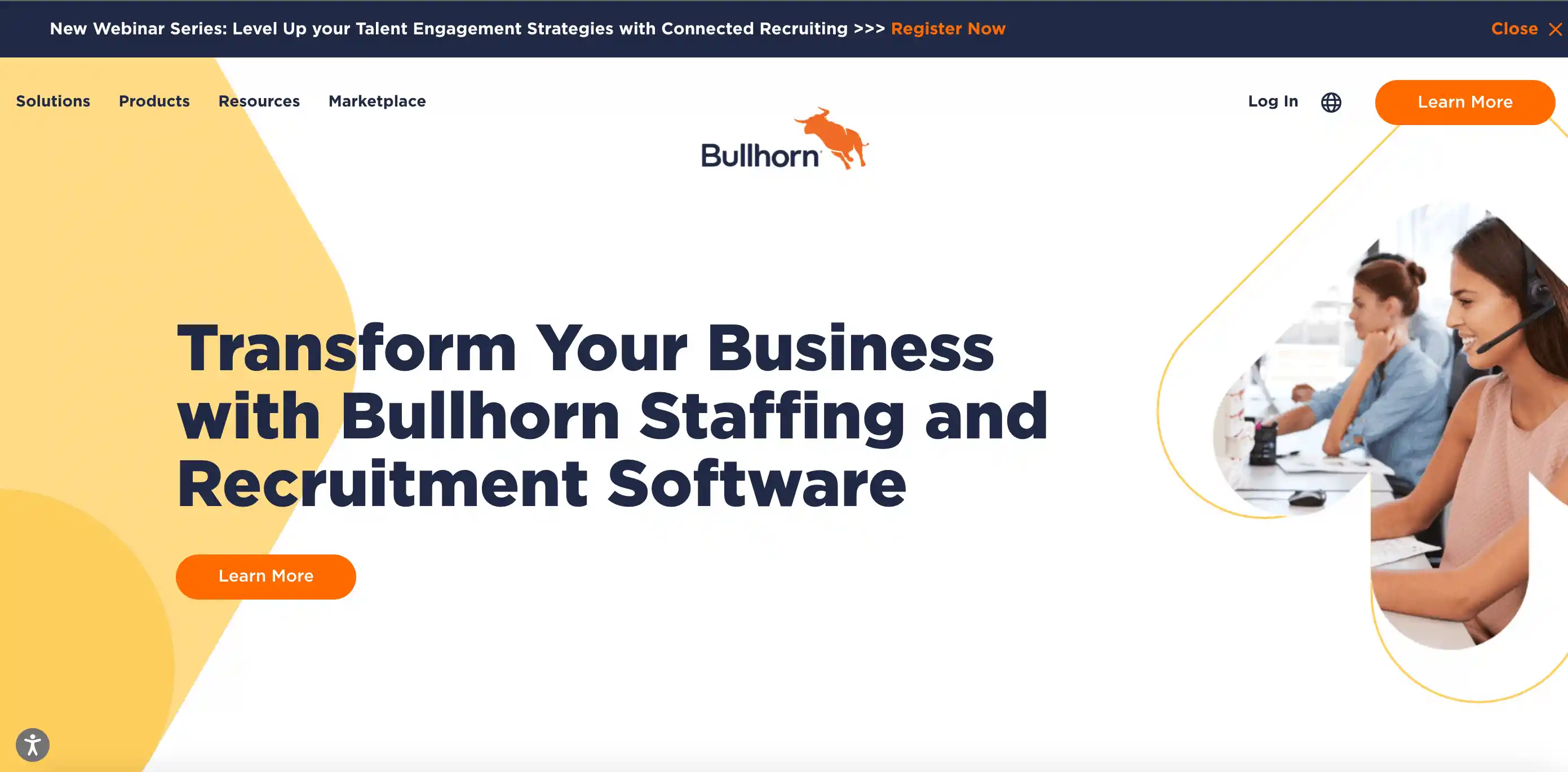 Bullhorn maximizes recruiter performance with easily accessible information and transparent workflows. Bullhorn's ATS stores all candidate information in one place, allowing recruiters to connect with a candidate quickly in the future to increase engagement and retention.
With an intuitive system, recruiters can stay organized and efficiently fill vacancies, increasing productivity.
Pros:
Highly customizable workflows

Ability to create groups based on candidate features

Can update prioritization

Each candidate's LinkedIn can be accessed directly

Impeccable customer support

Easy tracking
Cons:
Functionalities can be complex for new users

Booting it is time-consuming

Contact duplication occurs in case of inbound lead and manual updating
G2 Crowd Rating: 4.0 (505 reviews)




3. SmartRecruiters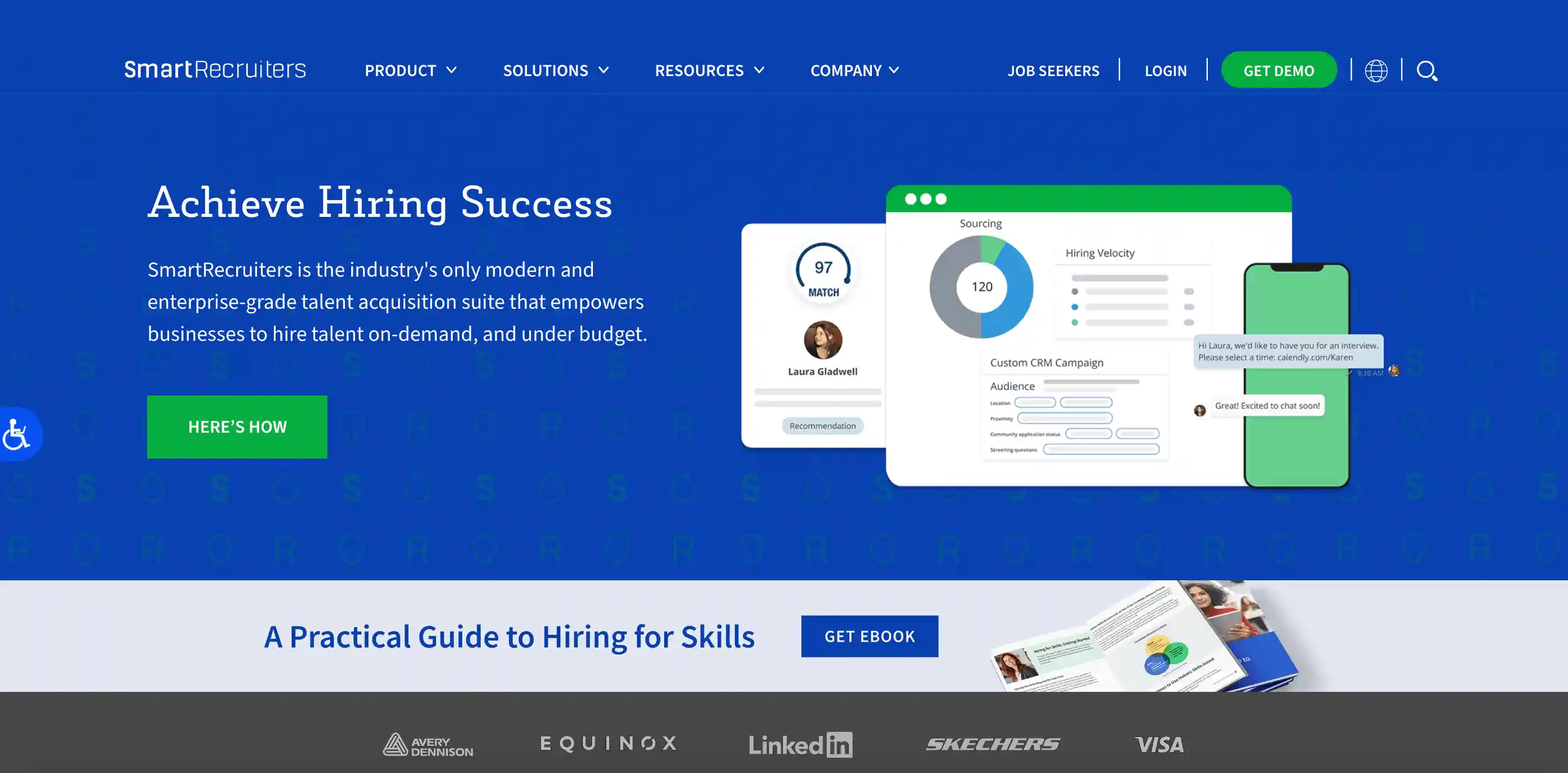 One of the most popular, modern, and enterprise-grade talent acquisition suites, Smart Recruiters lives up to its name. This application tracking platform goes beyond usual ATS and offers effective talent sourcing & engagement with native collaboration, assessment, and AI tools. The platform helps companies to hire the finest talent for the job within their budget.
Pros:
Easy apply option

Comprehensive user interface

Excellent communication features
Cons:
The automated resume screening process can be glitchy at times
G2 Crowd Rating: 4.3 (439 reviews)
FAQs
What are the three R's of talent acquisition?
The 3 R's of talent acquisition are – Recruit, Reward, and Retain. With each growing step, a company must ensure that they recruit right, reward the employees, and retain them.
What is the benefit of integrating talent acquisition with competencies?
In today's competitive landscape, retention is something every company puts its focus on. Integrating talent acquisition with competencies makes sure that you hire the right candidate in the first place so the company can have a skilled workforce without frequently causing attrition. Moreover, investing in AI tool for talent acquisition will help you access all your recruitment data in one place.
How might talent acquisition create a competitive advantage for a company?
A proper talent acquisition strategy helps companies to find and hire the right people early on and seamlessly assess their skills while providing candidates with satisfactory and prompt experience. It also increases retention, boosts efficiency, and drives profits for the company.



Summing up
While concluding, we would like to point out that thorough research on features, services, and performance is essential to see whether software would be a good fit for your company.
However, if you are looking for a talent acquisition tool that seamlessly handles video interviews and other assessments while providing real-time reports of possible performance, book an iMocha Demo today!